MAY 7, 2014
AZ Archaeology Society – Desert Foothills presents Britton Shepardson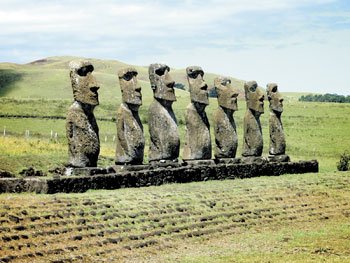 Easter Island, a Polynesian Island, is one of the most remote islands in the world. Yet, most of us know this island for one primary reason – really large statues. The enormous carved extant monumental statues called moai are created by the Rapa Nui people. The cataloged number of moai is 887 on the island or in museums. A fact not as commonly known is the thousands of petroglyphs on Easter Island.

On May 14, Dr. Britton Shepardson, the author of "Moai: a New Look at Old Faces," an archaeologist and lecturer at Northern Arizona University will speak. Over the past fourteen years, his research has applied quantitative analysis and non-invasive methods to address a number of research topics on Easter Island and other Polynesian islands.

The general public may attend an Arizona Archaeology Society – Desert Foothills Chapter meeting at no charge, except for the holiday party in December. The AAS-DFC meetings are held on the second Wednesday of each month, September through May. There are refreshments available at 7 p.m. and the meeting begins at 7:30 p.m., usually ending prior to 9 p.m. The meetings are held in the community room (Maitland Hall) at The Good Shepherd of the Hills Episcopal Church, 6502 East Cave Creek Road, Cave Creek, AZ 85331.

Visit www.azarchsoc.org/desertfoothills.