BY MARIELLE D. MARNE | MAY 7, 2014
Scrumptious Sunday brunch now served at Cibo e Vino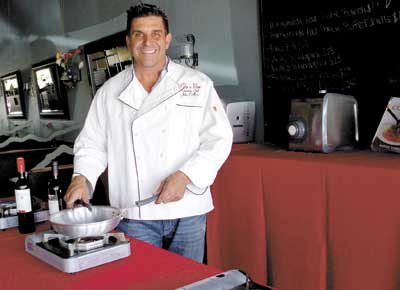 SCOTTSDALE – How does Sunday brunch with an Italian flair sound? Mouth watering? If so, immediately make reservations at Cibo e Vino for owner and chef John Collura's newest culinary endeavor. With Mother's Day upcoming, why not treat Mom to fancy fare and champagne?

Don't expect a boring buffet at this Sunday brunch (10 a.m.–3 p.m.). Collura has a pasta station where you pick your own homemade pasta – fettuccini, linguini, spaghetti – then add your sauce – marinara, Angus meat sauce, Alfredo, vodka cream, pesto – and any toppings – Portobello mushrooms, pine nuts, roasted red pepper, sundried tomatoes. It's the opportune time to try a little bit of all his offerings.

Though Cibo e Vino has been open for three years, folks are still just discovering the Italian eatery. But the consensus for the Sunday brunch is unanimous. "People love it! We've had a packed house, so be sure to make reservations," Collura advised. Some other favorites thus far: Mimosas, fresh-squeezed OJ, cinnamon roll waffles with cream cheese frosting, banana walnut pancakes and French toast – strawberry cream cheese, Nutella cream cheese or banana stuffed. Yum!

And there's more! If you love Collura's entrees and want something similar at home, Cibo e Vino sells three of his secret-recipe sauces: marinara, Alfredo and vodka cream. The 32 oz. jar feeds a whole family. "All you have to do is heat it up," Collura added.

Given its past success and the new ventures Collura is undertaking, he has decided to expand the restaurant. In addition to more seating (including another outdoor patio) and a larger kitchen, there will be easy listening live music. Renovations are slated to be complete by end of summer, and won't affect day-to-day operations, so watch for word of a grand opening celebration!

Cibo e Vino is located at 34522 N. Scottsdale Rd. For details call 480-595-6600 or go online – ciboevinoaz.com.