BY LINDA BENTLEY | APRIL 9, 2014
Groundwater recharge feasibility study thwarted for now
Community bonding through paving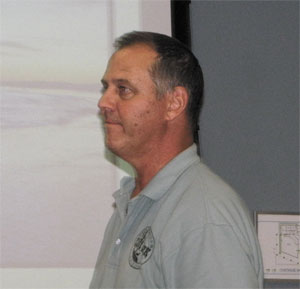 CAVE CREEK – Utilities Manager David Prinzhorn asked council to authorize a recharge feasibility study by HydroSystems, Inc. for an amount not to exceed $18,093.

Prinzhorn introduced Gary Small, president of HydroSystems, which he said has been around for 20 years and was the preeminent company in the field of water production and recharge systems.

Small did a presentation for council explaining what the feasibility study would cover, the various recharge methods and projects his firm has completed.

He said they were currently working on a project for Casa Grande that will tie into its trail system.

Small said it would have a unique water amenity that included a fishing lake.

He said Cave Creek's water wells provide recharge opportunities up around the golf course and Galloway Wash area.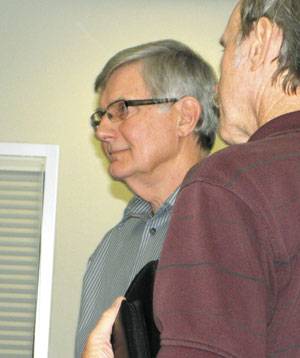 Small pointed out there is no point in recharging in an area where you can't get it back out.
Vice Mayor Adam Trenk asked Prinzhorn what the impetus was behind bringing this forward and asked if it would matter if they held off for a year or two.
Prinzhorn said there was money in the budget and he wanted to prepare the town for its water needs for generations to come.
Trenk asked Small for a range of costs for recharge projects.
Small said a 1,200 acre feet per year facility would cost around $350,000 whereas a 2,500 acre feet facility might cost $1.2 million.
Councilman Reg Monachino asked Prinzhorn if the proposal was a formal recommendation from the Water Advisory Committee.
Prinzhorn responded, "We've discussed it. Whether it has their full endorsement, I don't know."
Bill Allen, who serves on the committee, said, "These ideas have been around for approximately 35 years."
Allen said it was something the town should be doing and stated, "I strongly suggest council move forward."
He said there was a backlog of data that goes back a long time, but they weren't sure where it was archived.
Allen said the item was on the Water Advisory Committee's agenda for Wednesday.
Councilman Ernie Bunch moved to approve the study, with a second from Councilman Mike Durkin.
Trenk said he thought a little more work needed to be done before approval. "I think it's a good idea," said Trenk, but stated there was no urgency as well as some budget uncertainties this year.
Councilman Thomas McGuire said he would like to see more discussion by the Water Advisory Committee.
Councilman Reg Monachino said he agreed with Trenk that it was premature and needed a lot more work.
The vote failed 3-4 with Bunch, Durkin and Mayor Vincent Francia voting yes.
Once Francia was assured by Town Attorney Fredda Bisman it had the authority, council voted unanimously to amend an ordinance for a tax dedicated to the acquisition, operation and maintenance of Spur Cross Conservation Area to allow excess funds to be used at the town's discretion with 50 percent of the funds going toward the purchase of open space.
Town Manager Peter Jankowski introduced the next item, which he said was a housekeeping item, amending policy 42 regarding contracting for community services and removing council policy 17 regarding charitable donations.
Bunch moved to approve the amendments and said, "I always like less regulation and less confusion."
Monachino's offer to amend the motion and continue the item to a date uncertain failed for lack of a second.
The original motion passed 6-1 with Monachino dissenting.
As another housekeeping measure, council voted unanimously to remove council policy number 1 pertaining to banners across Cave Creek Road.
Although council previously voted against expending $32,000 for a joint paving project with the town of Carefree for the paving of Stagecoach Pass Road, which was never completed after the developer went bankrupt, it was brought back for reconsideration by Jankowski who passed out copies of the draft pavement management report prepared by Applied Technologies.
Jankowski, who noted the road has now been identified in the study as one of the worst in town, said doing the project in conjunction with Carefree helps bond the communities and saves money.
Carefree resident Evelyn Johnson, who lives in the subdivision adjacent to Stagecoach Pass Estates, said the road is very rough.
Monachino said, "I dispute the fact that if we don't do this now it will cost more." He said the road sees only seven cars a day and he doesn't consider it dangerous.
Trenk said he agreed with Monachino and said there were 14 other roads identified that are in worse condition and have far more traffic.
Jankowski stated it was high on the list by the town engineer and will save the town money in the long run.
Monachino stated, "Carefree's agenda is extreme. We don't have a traffic study."
Trenk said he would have liked to have known how much it would cost to pave the road without doing it conjunction with Carefree to quantify the savings.
Francia told Jankowski he didn't appreciate being handed the study at the council meeting with only minutes to review it and asked that he not do that again.
However, Francia said the bottom line is the town has an obligation to fix the road.
The motion passed by a vote of 5-2 with Monachino and Trenk dissenting.