APRIL 9, 2014
Local wins World Championship Select Cowboy Mounted Shooting title
HOUSTON, Texas – Skip Neuman of Cave Creek, Arizona, captured the world championship title in Select amateur cowboy mounted shooting pistols at the John Deere American Quarter Horse Association Cowboy Mounted Shooting World Championship Show on March 22 at the Houston Livestock Show and Rodeo. Neuman showed his American Quarter Horse Peppys Steeldust.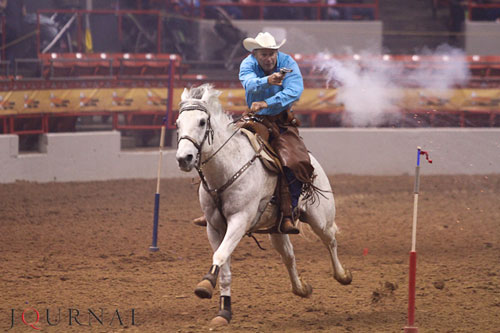 Peppys Steeldust, sired by Woods Lil Peppy and out of Dancin Jewels, was bred by Elizabeth J. Para of Othello, Washington. Peppys Steeldust is a 2003 gray gelding.

In Select amateur cowboy mounted shooting pistols, 22 entries competed for world champion honors and a purse of $7,390. The world champion received a prize package that included a custom-designed gold trophy, courtesy of the John Deere CMS World; sterling-silver buckle with 14-karat-gold-overlay, courtesy of Montana Silversmiths; specially designed logoed jacket and world champion patch, courtesy of Cripple Creek Outerwear; neck wreath; Justin Boot certificate; and a medallion box.

The John Deere CMS World is an event for American Quarter Horse owners and exhibitors from around the world, who must qualify for cowboy mounted shooting by earning a predetermined number of points or participating at AQHA-approved cowboy mounted shooting events. The John Deere AQHA CMS World was held in conjunction with the Zoetis Versatility Ranch Horse World Championship Show, March 20-22, at the Houston Livestock Show and Rodeo. The 105 entries at this year's event represented competitors from 20 of the United States, as well as Germany.

For more news from the Zoetis VRH World and John Deere AQHA CMS World, visit www.aqha.com/versatility.