MARCH 26, 2014
WestWorld to open its stables to more than 70,000 steel horses for Arizona Bike Week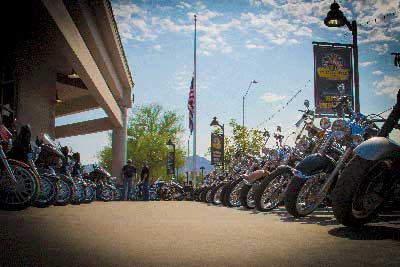 SCOTTSDALE – Arizona Bike Week, one of America's largest motorcycle rallies, will attract well over 100,000 bikers to the greater Phoenix area this year. This epic gathering of the riding community will be celebrated April 2-6, 2014 at WestWorld in Scottsdale.

Arizona Bike Week, supported by numerous Valley businesses and national brands, has for the first time in its history secured presenting sponsors. This year Harley-Davidson of Scottsdale and Go AZ Motorcycles, owned by Valley entrepreneur and motorcycle aficionado Bob Parsons, will back the state's most anticipated motorcycle event.

"Arizona Bike Week is one of the fastest growing rallies in the country," said Harley-Davidson of Scottsdale General Manager Justin Johnson. "Held in our backyard, the partnership just makes sense. Our sponsorship is the ultimate way for us to show our support of and say thank you to the riding community."

"Many motorcycle rallies have been in existence for thirty, forty or up to ninety years," said rally organizer and FX Entertainment President Brad Bennett. "In its eighteenth year, by comparison, Arizona Bike Week is a very 'young' event. Our partnership with Harley-Davidson of Scottsdale and Go AZ Motorcycles has enabled us to mature the event by at least a decade – securing the reputation as a cornerstone for the Arizona riding community."

WestWorld, the Valley's premier 360 acre special events facility, is the hub for the main-rally. Five-day passes to the event are $50 and include access to all activities and attractions as well as four nights of concerts, any one of which you would expect to pay at least $50 to see.

This year's concert line-up includes Lynyrd Skynyrd, ZZ Top, Big & Rich, Joan Jett & The Blackhearts and Aaron Lewis. Sons of Anarchy cast members Kim Coates, "Tig" and Tommy Flanagan, "Chibs" will make a special appearance on the final day of the rally.

Harley-Davidson of Scottsdale and Go AZ Motorcycles will also host four days of free events at their 14 acre motorcycle campus in north Scottsdale during Arizona Bike Week. Signature events include live Arizona Derby Dames female roller-derby matches, RAGE Entertainment MMA fights and the 1st Annual Arizona Motorcycle Skills Course Championship.

The dealerships will also hold two charitable rides, "Peace Out" Prostate Cancer and "Saddle Up" for Kids.

For more information about Arizona Bike Week or to purchase tickets visit, www.AZBikeWeek.com.