BY LINDA BENTLEY | MARCH 26, 2014
Court consolidation opens to identity crisis
'No one likes to go to court. If it's going to be an unpleasant experience, let Carefree take the credit.'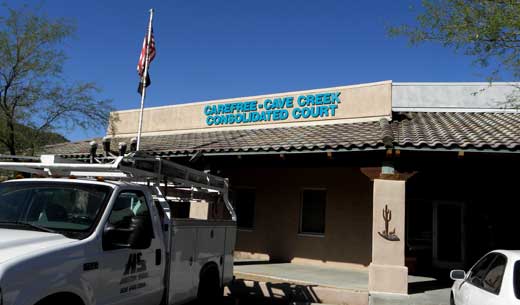 No sooner did Horizon Signs finish installing the building identification signage and the lettering on the window at the new Carefree – Cave Creek Consolidated Court quarters at Cave Creek Town Hall, plans were already underway to undo some of that work. Photos by Linda Bentley


CAVE CREEK – What a difference a day makes. On Wednesday, March 19, Horizon Signs was finishing up its work on the recently consolidated Carefree-Cave Creek Municipal Court, to ready it for reopening on Friday, March 21 at its new location in Cave Creek.

By Thursday, some of that work had already been undone while plans were underway to change some of the other signage.

With the newly consolidated court to be run by Carefree Magistrate K.C. Skull in Cave Creek's council chambers, Carefree went all out to emblazon the Cave Creek Town Council chambers and municipal court with "Carefree – Cave Creek Consolidated Court" in large bright turquoise letters atop the building and white letters on the fixed window next to the door, completely covering up the town of Cave Creek seal and identification as its town council chambers embedded in the glass.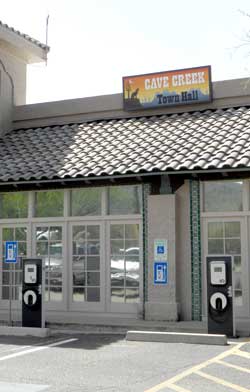 Meanwhile, Cave Creek Town Hall has a small innocuous sign identifying itself, just above the never-used electric car charging stations on the west side of the building facing Cave Creek Road.

Town Manager Peter Jankowski said the new court identification sign atop the building would lead people to believe they were in Carefree rather than Cave Creek, something neither town apparently wants, and stated covering up the imbedded-in-glass Cave Creek town seal and identification as its council chambers was unacceptable.

Carefree has struggled over the years with a way to brand the town and help visitors find their way to its hidden commercial center.

Carefree Town Council members have even complained how people intending to visit Carefree often drive right on by and wind up in Cave Creek, none the wiser.

While placing its name first in the court consolidation intergovernmental agreement with Cave Creek gives Carefree's name higher recognition, it's doing it in the wrong town.

Neither Carefree nor Cave Creek seem to want any confusion over which town is which.

By the next morning, all the new white lettering on the glass had already been removed and, according to Jankowski, the building identification lettering at the top of the building will be reinstalled to say "Cave Creek – Carefree Consolidated Court," despite its official name being "Carefree – Cave Creek Consolidated Court."

All of the court's paperwork will still say "Carefree – Cave Creek Consolidated Court."

According to Jankowski, it will cost an additional $500 to redo the signage and the cost is being shared by both towns.

Although he was stunned at the new and very pronounced building identification signage, Cave Creek Councilman Ernie Bunch, the only council member who voted against the court consolidation, stated he didn't really have a problem with the court being predominantly identified as Carefree, likening going to court with going to the dentist.

Bunch said, "No one likes to go to court. If it's going to be an unpleasant experience, let Carefree take the credit."