BY LINDA BENTLEY | MARCH 26, 2014
Cave Creek woman arrested by IRS for 16 false claim counts
Anderson prepared tax returns that collectively claimed over $63 million in false income and false tax withholding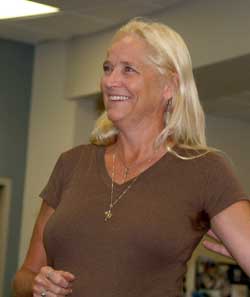 CAVE CREEK – Linda Mary Anderson (r), who owns Coyote Accounting in Cave Creek was arrested on March 20 by IRS special agents.

On March 18, Anderson was indicted by a federal grand jury on 16 counts of false claims and aiding and abetting for preparing and assisting others with preparing and filing federal income tax returns claiming false refunds.

From around January 2009 through November 2010, Anderson prepared tax returns on behalf of more than 100 individuals that collectively claimed over $63 million in false income and false tax withholding.

For the 16 false claim counts in the indictment, Anderson prepared returns seeking approximately $3.9 million in false refunds, which caused the United States to issue approximately $2.2 million in false refunds.

As part of the scheme, Anderson prepared and filed more than 2,000 false tax documents with the IRS using Form 1099-A and Form 1099-OID, forms that banks and financial institutions use to report financial information to the IRS.

Form 1099-A is typically used when a bank forecloses on a home or takes possession of secured property.

Form 1099-OID (Original Issue Discount) is typically used when a bank issues a debt instrument such as a bond or certificate of deposit at a discount.

If the bank withholds taxes on the reported discount, the bank must forward the tax withholding to the IRS.

Anderson is said to have used these forms to falsely report millions of dollars of false income and tax withholding to the IRS.

For example, count five of the indictment indicates on Aug. 25, 2009 Anderson reported $1,048,786 in false income on behalf of RL, reflecting a false withholding amount of $1,048,786, which resulted in claiming a false refund of $782,239.

The false documents were filed using the IRS' FIRE (Filing Information Returns Electronically) system.

However, Anderson never registered for a FIRE account in her own name or business name and instead deceptively used two different FIRE accounts registered to other individuals.

Following her arraignment on March 21, Anderson was released from custody on her own recognizance with trial set for May 6, 2014 before U.S. District Judge Susan Bolton.

She was ordered not to travel outside the state of Arizona without prior court approval, surrender all travel documents to pretrial services by March 24 and not obtain a passport or other travel documents during the pendency of these proceedings.

And, with the exception of the payment of the mortgage on her primary residence or any current auto loan obligation, Anderson must obtain approval from pretrial services for any expenditure of $500 or more.