MARCH 19, 2014
Cave Creek Fiesta DaysTM 2014
President's Welcome

Welcome to the Annual Cave Creek Fiesta Days™ Rodeo celebration. The members of the Cave Creek Pro Rodeo committee have been working hard all year to bring you another great weekend of professional rodeo. We are extremely pleased to be bringing back the Cervi Brothers Rodeo Company as our 2014 Stock Contractor. Their world champion bucking horses and bulls definitely did not disappoint our fans or the cowboys in 2012 or 2013.

Once again, we've been busy in the arena making improvements. The Bucking Chutes got a much-needed face-lift with lots of paint and new sponsor signage. Hats off to the committee members who have forfeited their weekends to make sure the rodeo grounds are looking good for our event.

The continued support from our sponsors and advertisers is so important and we thank each and every one of you. The 2014 Cave Creek Fiesta Days Rodeo is presented by Sanderson Ford. Sanderson Ford is the first CCFDR Presenting Sponsor and we look forward to continuing this partnership for many years.

For our thousands of rodeo fans, the first PRCA performance is on Friday, March 28 at 7:30 p.m. and it is "Pink Night." The second PRCA performance is Saturday night at 7:30 p.m. The final PRCA performance, Wrangler National Patriot Day, is Sunday at 2 p.m. Rodeo weekend offers three full action packed PRCA performances at the Cave Creek Memorial Arena and tickets are available now at www.TicketForce.com (2013 had two sold out performances, so we suggest buying tickets early).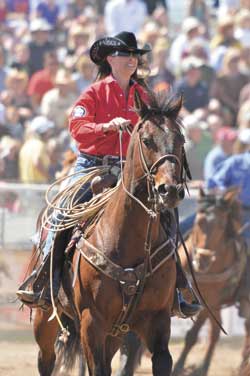 Special events during rodeo include the Historic Fiesta Days Parade at 9 a.m. on Saturday morning in the Town of Cave Creek. The Mutton Bustin' competition and finals are at 2 p.m. on Saturday. The Friday night Rodeo Dance is sponsored by the Cave Creek Tap Haus. The Saturday night Rodeo Dance is sponsored by Harold's Corral. The full schedule of rodeo and special events can be found at www.CaveCreekProRodeo.com

On behalf of the 2014 Board of Directors, I'd like to thank the Cave Creek Pro Rodeo committee and all its volunteers who spend countless hours organizing and planning this annual event. Our ultimate success relies on the commitment and support from our committee members, volunteers, sponsors, advertisers and the Town of Cave Creek.

We know you will enjoy Fiesta Days and all it has to offer. Your attendance helps us to continue the tradition of professional rodeo in Cave Creek and also helps us support local charities. We are proud to have donated over $7,000 to local charities in 2013 and look forward to giving even more this year.

See you at the Chutes – March 28, 29 & 30!

Sincerely,
Traci Casale
2013 / 2014 CCPR President
2014 CCPR Board of Directors

Traci Casale, President, Production Manager
Bill Buckles, Arena Director
Gina Kraut, Production Assistant
Beth Cornell, Treasurer, VIP Club Chair
Stacy Tucker, Volunteers, VIP Club Co-Chair
Gary Stark, Security, Parking
Robbie Hall, Parade
Cody Hall, Livestock Manager
Tina Hayden, Recording Secretary, Mutton Bustin'
Jim Olsen, Bleachers, Seating, Merchandise
Patty Byerly, Contestant Hospitality

The Desert Hills Community Association (DHCA) is an all volunteer 501(c)3 Arizona nonprofit corporation, better known as the Cave Creek Pro Rodeo Committee. If you wish to support the ongoing efforts of the DHCA, please mail donations to P.O. Box 647, Cave Creek, AZ 85327. Checks should be made payable to Desert Hills Community Association.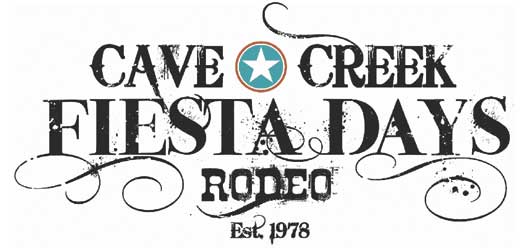 Schedule of Events
Cave Creek Fiesta Days Pro Rodeo tickets

Wednesday, March 26
4th Annual Fiesta Days * Dan Lebsock Golf Tournament & Fundraiser at Tatum Ranch Golf Club
(visit cavecreekprorodeo.com/main/fiesta-days-rodeo/golf/ for entry, silent auction and raffle donations) followed by Dinner & Awards Banquet.

Thursday, March 27
Women's Pro Rodeo, noon to 6 p.m.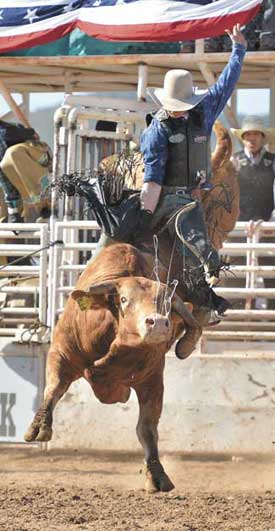 Friday, March 28
PRCA Slack Performance at noon.
First PRCA performance at 7:30 p.m. *Pink Night* benefiting cancer charities.
Rodeo Dance at Tap Haus after rodeo performance

Saturday, March 29
Fiesta Days Rodeo Parade at 9 a.m.
Mutton Bustin' Competition, Finals at 2 p.m.
Second PRCA performance at 7:30 p.m.
Rodeo Dance at Harold's after rodeo performance.

Sunday, March 30
Final PRCA performance at 2 p.m. *Wrangler National Patriot Day* benefiting American military veterans and their families.

For Stockman's VIP Club:
Payment can be received via check / snail mail or by credit card using PayPal. Credit card orders still must submit the application by either fax 623-399-1474 or by email vipclubs@cavecreekprorodeo.com or mail your application and payment to Cave Creek Pro Rodeo, P.O. Box 647, Cave Creek, AZ 85327.

Complimentary Shuttles ...
will run every 15 minutes from Cave Creek to the Rodeo Grounds and back from 5 – 10 p.m. on Saturday. Shuttle Stops are brought to you by Hogs 'N Horses, Buffalo Chip, Harold's and Tap Haus.

All Pro Rodeo events ...
are held at the Cave Creek Memorial Arena with the exception of the golf tournament, the parade and the dances. The arena is located north of Carefree Highway. Take 24th Street north and turn right on Maddock.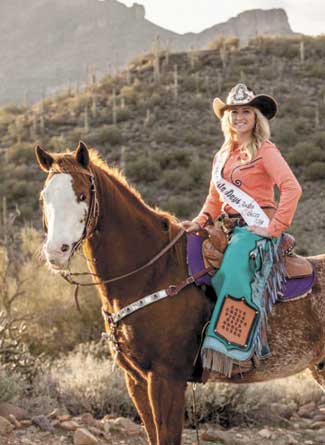 2014 Miss Cave Creek Fiesta Days™ Rodeo Queen

Name: Cassie Robertson

Age: 21

Hometown: Cicero, Indiana

Current Home: Cave Creek

Education: Hamilton Heights High School, AAEC, SCC

Associations: (past) FFA,
4-H; (present) NBHA, GCPRA, CCPR

Interests: Horse training, colt starting, barrel racing, rodeo

Career goals: Teaching, Agricultural field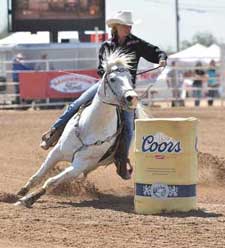 Amanda Barlow, 2011 & 2012 CCFDR Queen, is now a Barrel Racing competitor

Visit TicketForce.com for your 2014 Cave Creek Fiesta Days Rodeo tickets





All Rodeo photos by Greg Westfall,
2013 PRCA Photographer of the Year