MARCH 5, 2013
Obituaries

Jackson Mantford Cartwright III
Jackson Mantford Cartwright III, 72, of Phoenix, Ariz. passed away on January 20, 2014. Jack was a true gentleman, cowboy and a great brother. He impressed all with his memories/stories of the Cartwright Ranch. He will be greatly missed by all. He was especially fond of the Lopez family which was adored by the entire family.

He is survived by his brother Jeff Cartwright, sister Dottie Cartwright Bird (Phil), his partner Donna Jordan and his brother Anthony Hurley. He was preceded in death by his father Jackson Mantford Cartwright Jr., younger brother Allen Cartwright and his mother Beverly Hurley.

Services will be held on Saturday, March 8 at 10:30 a.m. at the Cave Creek Museum Chapel. In lieu of flowers a donation to the Cave Creek Museum to preserve the history of ranching would be greatly appreciated.
Anthony J. Iarocci Sr.
Anthony J. Iarocci Sr., 85, of Carefree, Ariz. passed away on Feb. 24, 2014.

First generation American, Tony was born in Eastchester, NY, on Oct. 30, 1928, to Luigi and Louisa Iarocci.

After graduating from Eastchester High School, Tony proudly served in the navy. After completing his military service, he attended Lehigh University in Bethlehem, Penn., where he earned a degree in Political Science.

He worked for Inland Steel Company and Metron Steel Corporation, both in Chicago, Il. He moved his family to Paradise Valley, Ariz. in 1976, continuing his employment with Heflin Steel Company. Tony finished his professional career with Morgan Stanley Dean Witter pursuing a great interest in the financial and investment industry.

Tony's final years were spent living happily in Carefree, Ariz.

He is preceded in death by his first wife of fifteen years, Margaret Jehle. He is succeeded in life by his wife of forty seven years, Anne Marie Jehle; son Tony, Jr. (Diann) also of Carefree; daughter, Maria Leibow (Spencer) of Phoenix; and four grandchildren.

Guided through life by his love of family and coupled with his deep faith, he imparted much wisdom and love to those who came to know him.

A Funeral Mass was held on Friday, Feb. 28 at Our Lady of Joy Catholic Church, 36811 N. Pima Rd., Carefree, Arizona followed by interment at Cave Creek Cemetery.
Robert J. Riggle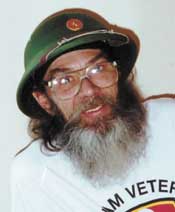 Robert J. Riggle was born to Lester and Marian Riggle Varga Hemmen on March 18, 1950 in Milwaukee, Wisconsin. He left us on January 31, 2014 for a better place after losing his battle with cancer at the Phoenix VA Hospital.

Robert owned a landscaping company in Cave Creek, Ariz. where he lived for 30 years. He was a member of the American Legion Post #34 in Cave Creek.

Bob was a caring and loving person who had lots of friends and family by his side throughout his battle with cancer.

Bob is survived by his mother Marian, sisters Carol, Monica, Linda and Kim Bobo, brothers Steve, Gary and Terry Bobo, Craig and Terry Hemmen.

Family members wish to thank the VA Hospital in Phoenix for all of their help with Bob's care and in easing his pain.

Family members will be taking him back to Wisconsin to be laid to rest.