BY MICHAEL KIEDROWSKI, DVM | MARCH 5, 2014
Anterior Cruciate Ligament rupture in the dog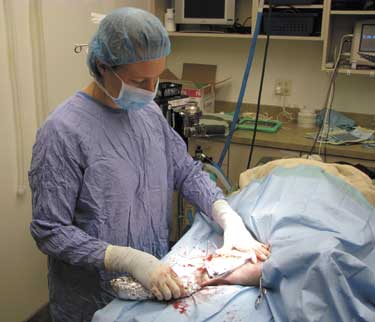 One of the more common referrals we get at Dove Valley Animal Hospital is for a second opinion on Anterior Cruciate Ligament (ACL) rupture. ACL rupture is one of the more common rear leg injuries in active large breed dogs. The diagnosis is made by palpation demonstrating an excessive motion in the knee that is not possible if the ligament is intact. X-rays will not diagnose an ACL rupture but are often taken to provide two key pieces of information. First, to determine if there is any obvious cause of the rupture or any secondary complications and second, to help determine the best surgical option taking into account bone structure and joint alignment.

There are 3 different common surgical treatments for this condition.

1) SST (String stabil-ization technique): Placing a string in the knee to replace the ligament. There are many different variations and it has been around the longest. Commonly recommended for smaller dogs, inactive dogs or dogs that have certain bony configurations. Not recommended for dogs over 30 lbs or young active dogs.

Advantages: Cheapest, shortest recovery times
Disadvantages: implant failure (breaking of the string or the bone it was anchored to) or infection resulting in implant removal. (Implant removal removes the "fix")

2) TPLO (Tibial Plateau Leveling Osteotomy): Cutting the top of the tibia and rotating it to reduce or eliminate the need for the ACL. This technique became the "gold standard" for dogs with ACL rupture. Young, large active dogs finally had a procedure that could address the forces at work in their knee joint. Most large active dogs are able to return to full active function.

Advantages: Eliminates the need for the ligament. If infection becomes a problem the plate can be removed and the "fix" is still in place.
Disadvantages: Expensive, very few trained surgeons, long healing, recovery time.

3) TTA (Tibial Tuberosity Advancement): This is a newer technique than the TPLO with some advantages in certain dogs. It involves cutting the tibial crest (front of the tibia) and moving it forward. Because of moving the tibial crest certain patella (knee cap) issues can be corrected at the same time.

Advantages: Eliminates the need for the ligament. If infection becomes a problem the implants can be removed.
Disadvantages: Expensive, even fewer trained surgeons, long healing and recovery time, difficult to remove implants if complications arise. (TTA implants are more difficult to remove than TPLO plates).

Because every dog and situation is different there is no single perfect way to repair or correct ACL damage. The most important thing you can do is talk to your veterinarian about your choices and what may work best for you. The final choice should be made based upon palpation, radiographs, breed, age, lifestyle, expectations, costs and family dynamics.
For more information call 480-595-5731 or visit Dove Valley Animal Hospital at 4815 E. Carefree Highway, Ste. 116 in Cave Creek.
MARCH 5, 2014
Tierra Madre Horse Sanctuary benefit March 15
Cave Creek Smokehouse presents Ron Matthews Live with Rocky Road
CAVE CREEK – Cave Creek Smokehouse is hosting a benefit for Tierra Madre from 6 – 9 p.m. on March 15. Please plan to join them in support of Tierra Madre, a 501(c)(3) non-profit that provides forever homes to previously neglected, abandoned, mistreated, injured and forgotten horses. They depend entirely on donations and it takes nearly $200,000 a year for care and upkeep at the ranch.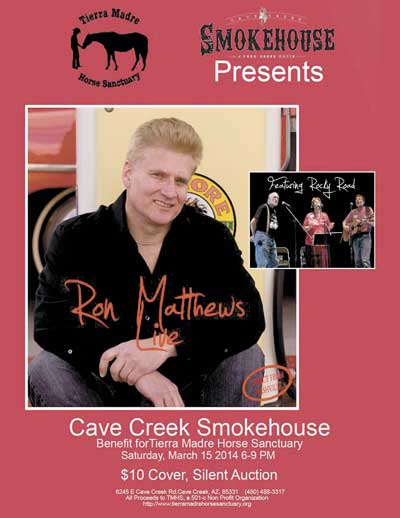 You will enjoy Ron Matthews direct from Nashville with Rocky Road, an acoustic trio whose performance is a tribute to the music of Peter, Paul, and Mary. Having banded together over six years ago, Rocky Road has performed at numerous festivals, retirement centers, folk clubs, and special events on a regular basis, in every corner of Arizona.

Rocky Road brings back the songs that Peter, Paul, & Mary made popular in the 60s, all in three part harmony, with an occasional twist of humor. A fun performance, indeed!

Cave Creek Smokehouse is located in Frontier Town at 6245 E Cave Creek Road in Cave Creek. All proceeds go to TMHS, a 501(c)(3) Non-profit Organization, EIN 61-1544459. For more information or to donate online, visit www.tierramadrehorsesanctuary.org.

If you cannot attend and would like to make a contribution via mail, please send your donations for the Tierra Madre Horse Sanctuary in the form of check or money order to Tierra Madre Horse Sanctuary, Attn: Jim Gath, 27115 N. 45th Street, Cave Creek, AZ 85331.