BY MARIELLE D. MARNE | FEBRUARY 19, 2014
Business continues to boom at Cave Creek Armory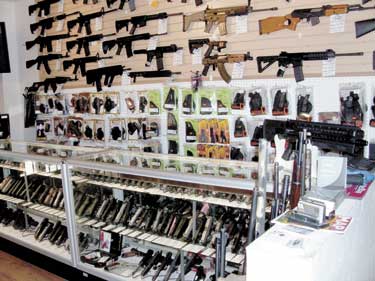 CAVE CREEK – You don't need to shoot skeet, hunt or dabble in martial arts to have a reason to visit Cave Creek Armory. Even if you can defend yourself with your linebacker physique, did you know guns can be a sound investment? Buy a model one year and it's fairly certain the following year it will have seen perhaps a $100 price increase.
The owners of Cave Creek Armory, Jeff Iacovelli and Joe Soucy, are knowledgeable and are more than willing to guide you, depending on your needs, be it investment, hobby or self-protection. First, they'll want to know what the purpose is to purchase. Next, they need to know your price point. Finally, the comfort of the gun is when you get your hands on one and see how the grip and weight feel. In the store alone there are roughly 500 options (new and used) and many more on their revised website –
www.cavecreekarmory.com
.
There are a host of accessories at Cave Creek Armory, from holsters to knives, Tasers, flashlights, pepper spray, ammo. Recently they have become a Class 3 dealer, which means they sell machine guns and suppressors. Inventory is always changing and prices remain competitive. "We even try to price match when we can," Soucy added.
Iacovelli added that they are often heralded as a shop that carries antique and older, harder-to-find models. Whether you have or want old or new weapons, for a fee Cave Creek Armory can appraise for insurance needs or just to assess current value. If you have guns to sell, "We won't take advantage of you," the owners agreed, explaining they use the Blue Book, a standard in the industry. They want to serve the needs of all gun enthusiasts with cleaning, gunsmithing, even legal transfer (note if you sell a gun privately, it remains in your name). So be safe, be smart and stop in to support Cave Creek Amory, open six days a week.
Located at 6812 E. Cave Creek Rd. #6, phone 480-595-2858 for hours and directions.