BY LINDA BENTLEY | FEBRUARY 12, 2014
The Free Enterprise Club in Phoenix, claims, 'The town of Cave Creek drew a bad card,' while portraying Vice Mayor Adam Trenk as a joker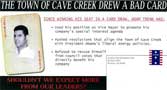 CAVE CREEK – Last week, Cave Creek voters received a mailer from the Free Enterprise Club (FEC) in Phoenix, claiming "The town of Cave Creek drew a bad card," referring to Vice Mayor Adam Trenk, whose picture appears on a Joker card, and who won his previous seat on council in a card draw due to a tie with Councilman Thomas McGuire.
BY LINDA BENTLEY | FEBRUARY 12, 2014
New leadership at MCSO District 4
CAREFREE – During Tuesday's council meeting, Pastor Jim Noble from Desert Hills Presbyterian Church presented the rollout of Neighbors In Need AZ, a new program that connects various community services, programs and support groups in one location.

BY LINDA BENTLEY | FEBRUARY 12, 2014
Elli stated no reasonable officer would believe he had violated Section 375.100
ELLISVILLE, Mo. – On Feb. 3, U.S. District Judge Henry Edward Autrey, for the Eastern District of Missouri, issued a preliminary injunction against the city of Ellisville, Mo., to prevent police officers from pulling over, detaining, citing, prosecuting and fining individuals whom they believe are communicating to oncoming traffic that a speed trap is ahead by flashing their headlamps.
BY LINDA BENTLEY | FEBRUARY 12, 2014
'Agent Terry's murder was a tragically foreseeable consequence of defendant's agreement to engage in armed robberies'
TUCSON – Manuel Osorio-Arellanes was sentenced on Monday to 30 years in federal prison in connection with the murder of Border Patrol Agent Brian Terry, who was 40 at the time he was murdered on Dec. 14, 2010 with one of the approximately 2,000 guns that were supplied to drug cartels by the U.S. government's Fast and Furious program.
FEBRUARY 12, 2014
In America's love affair with baseball, Scottsdale's Spring Training Festival is like the season's first kiss. The festival takes place from noon to 5 p.m. Saturday, Feb. 22, on the Scottsdale Civic Center Mall.