Feature Articles

FEBRUARY 12, 2014
Cabin fever is upon us so we are taking the time to make those fun vacation plans for the whole family, including our furry best friends. We're all keeping an eye on our finances these days and looking for ways to stretch our dollars. It can be a bit more challenging to make pet travel more economical when considering transportation and places to stay, so here are a few helpful hints for the budget-conscious.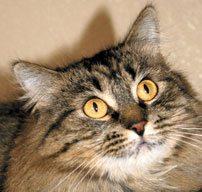 Pet of the Week: Doc
MULLET OVER BY JAMES K. WHITE | FEBRUARY 12, 2014
Your chicken nuggets may never taste the same. In September of 2013, the USDA issued a ruling that allows chickens raised and slaughtered in the U.S. to be shipped frozen to China. While in China, the frozen poultry can now be legally "processed" by various means and returned to the U.S.A. to be sold as food for humans. Yummy.

A new species of bat has been discovered and named in South Sudan. Some locals refer to the mammal (Niumbaha superba) as the badger bat because it has a black body and bright white stripes, thusly being redolent of a common badger.

BOOK NOOK | JANUARY 8, 2014
Dick Elder was born in 1927 and grew up in northeastern Ohio. He trained as a combat air crewman during World War II. Elder graduated from the Ohio State University in 1949. In 1960, he moved to Durango, Colorado; built a dude ranch; and operated it for thirty-seven years.

Books by Dick Elder: Which Way is West, Lovers & Liars, It Sure Beats Working and The Way Out. All are available in print and as E-books.