DECEMBER 18, 2013
Who is Natasha Hundman of Edward Jones?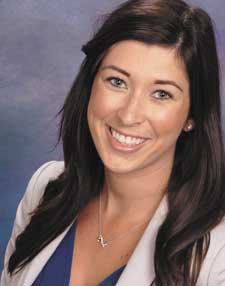 CAVE CREEK – Natasha Hundman is a financial advisor with Edward Jones. Born and raised near Chicago, she graduated from the University of Iowa with a degree in finance. She and fiancé Jacob Palmatier, a teacher with CCUSD, moved to Arizona for the Edward Jones opportunity. The move brought them close to family residing in Scottsdale so they decided Cave Creek was great place to make a new home.

"I appreciate the warm welcome received from the residents here and look forward to meeting more of my Cave Creek neighbors in the months to come," Hundman said.

Furthering her love of community, Natasha also is a new member of Kiwanis of Carefree and the Kiwanis Builders Club Advisor.

Hundman chose Edward Jones to pursue her financial career because she loves helping people achieve a better life through reaching their financial goals. Hundman said, "I grew up watching my father, also a financial advisor, share his knowledge and help families achieve their financial goals. His work inspired me. I've learned that building close relationships with community members and my clients are key, which is a perfect fit with the Edward Jones philosophy."

Edward Jones is known for the uniquely personalized service it offers individual investors and small-business owners in the United States and, through its affiliate, in Canada. Edward Jones embraces the importance of building long-term, face-to-face relationships with clients, helping them to understand and make sense of the investment options available today.

Hundman works on a variety of customized solutions to help clients prepare for and live in retirement, save for major purchases, protect loved ones, fund children's and/or grandchildren's education and transfer assets.

"The financial industry is constantly changing, and I stay on top of it to provide the best opportunities and solutions for my clients," Hundman said.

Natasha invites you to stop by her Edward Jones office at 4815 E. Carefree Hwy, Ste. 103 (in Fry's Shopping Center) or call 480-488-2821 if she may be of assistance.