BY LINDA BENTLEY | NOVEMBER 13, 2013
Cave Creek puts a little distance between itself and stolen slogan
Well, when stealing slogans, it's probably better to put a little distance between the towns rather than challenging the city next door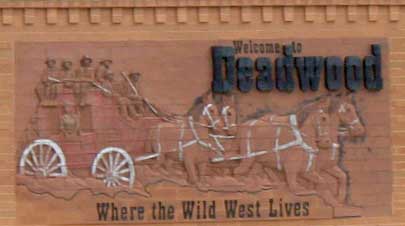 One of the stone and brick entry monuments welcoming people to Deadwood, S.D. is also emblazoned with the slogan, "Where the Wild West Lives."





CAVE CREEK – Town council said it only challenged Scottsdale for its trademarked slogan: "The West's Most Western Town" in fun and to garner free publicity for Wild West Days.

And, during its Nov. 4 meeting, council, instead, opted to pass a resolution adopting a "new" slogan: "Where the Wild West Lives," which Vice Mayor Adam Trenk credited to Councilman Mike Durkin, who was absent.

Well, when stealing slogans, it's probably better to put a little distance between the towns rather than challenging the city next door.

Approximately 1,200 miles away, a "Welcome to Deadwood" monument in South Dakota is also emblazoned with the slogan, "Where the Wild West Lives."

A Deadwood e-postcard on the Global Digital News Syndication's Black Hills Today depicts the same monument while adding, "Deadwood - Where Hangin' was a Spectator Sport."

The entire town of Deadwood is a Registered National Historic Landmark where the famous and infamous, such as Wild Bill Hickok, Seth Bullock, Potato Creek Johnny, Al Swearengen, Calamity Jane, Poker Alice and others, have left their marks.

It was there that Wild Bill Hickok was shot in the back while holding a poker hand of aces and eights, which later became known as a dead man's hand.

Around 400 miles away, Nevada Silver Trails uses the slogan "Where the Wild West Lives" to describe the small towns and areas outside Las Vegas, including Armagosa Valley, Beatty, Death Valley, Goldfield, Pahrump, Tonopah and more.

Calgary, Alberta, Canada, home of the Calgary Stampede Rodeo, is billed "Where the Wild West Lives on."

The Reno-Sparks Convention and Visitors Authority advertises Virginia City, Nev., as 26 miles from Reno and "where the Wild West lives on."

Then there's the Hopalong Cassidy Museum, "Where the Wild West Lives Again," in William Boyd aka Hopalong Cassidy's boyhood home, Cambridge, Ohio almost 2,000 miles away.

About 800 miles away, Golden, Colo. uses a similar slogan on its gateway entrance to the town.
It reads, "Howdy Folks! Welcome to Golden, Where the West Lives."

Only three and a half hours away, ArizonaGuide.com says, "Come visit Tombstone, Ariz. where the Wild West lives on."

And only about 50 miles away, United Country Double Star Realty states, "Welcome To Wickenburg Arizona ... Where The Wild West Lives. Wickenburg is a town where Arizona's Wild West culture still thrives."

Teton Valley and Jackson Hole, Wy., a little over 900 miles away, are touted by the Grand Targhee Resort in Alta, Wy. as "truly where the Wild West lives on."

The British Columbia Vacation Planner describes the Cariboo Chilcotin Coast region as cowboy country "where the Wild West lives on" and "where the Wild West lives large."

Over 5,300 miles away, the Disneyland Resort Paris in Coupray, France states in its brochure, "There's always room in the bunkhouse for a cowpoke like you at Disney's Hotel Cheyenne - Where the Wild West lives. Yee ha!"

A little closer to home at 900 miles away is Dodge City, Kans., famous for its gunfights, saloon girls and outlaws, is another place "Where the Wild West Lives on."

According to the Yellow Pages Superpages.com, Candlestick Point in the San Francisco Bay area is home to the Cow Palace, "where the Wild West lives on" each fall when the rodeo comes to town.

Disneyland's Frontierland in Anaheim, Calif. is considered a place "where the Wild West lives again."

In a blurb about Temecula, Calif., Western Group Tour magazine states, "Lasso your group down to Old Town and stroll along the wooden boardwalk where the Wild West lives on," and "perhaps catch the Old Town Gunfighters as they put on a show."

Oklahoma City, Okla. hosts an annual Chuck Wagon Gathering and Children's Cowboy Festival at a two-day festival "where the Wild West lives on."

A German travel brochure for the United States touts "Old Colorado - Where the Wild West lives on," as it tells about Harry Klein who had "always wanted to go out west – to ride out onto the prairie, to repair fences, to round up cattle …"

It mentions the town of Alamosa, where cowboys work the Zapata Ranch just outside of Durango.

While it may not be a registered trademark, Cave Creek's "new" slogan isn't so new after all.
Compared to Deadwood, Cave Creek doesn't seem so wild.

And considering Cave Creek requires a minimum of two acres for horses, it doesn't seem so western when even Phoenix and Scottsdale and Maricopa County allow horses on one-acre parcels.