BY LINDA BENTLEY | NOVEMBER 6, 2013
Dennis Michael Lynch electrifies Scottsdale audience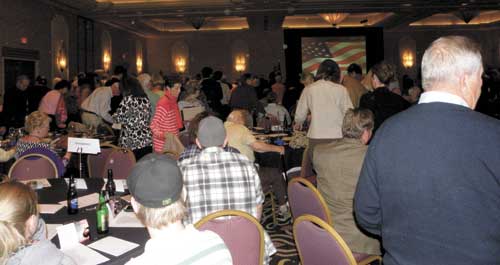 SCOTTSDALE – As part of his "Never Forget" tour, Dennis Michael Lynch drew a crowd of approximately 700 people to the Scottsdale Hilton for the event put together by the Arizona Legislative District 23 Business Network.

It was by far the largest event hosted by the LD 23 organization, which was established to bring like-minded people together to do business within a network that not only supports their business interests but their political interests as well.

Lynch provided all attendees copies of his two films, "They Come to America I and II," with the hope that after viewing them, people will pass them on to others who need to understand the impact of illegal immigration on our country.

Upbeat and positive, Lynch believes presenting information without foregone conclusions is the best way to reach the younger generation, which he says is necessary to get America back on track, as it allows them to make up their own minds based on facts and examples instead of being told.

Lynch said he graduated at the bottom of his high school class and was a five-time college dropout.

He launched a computer asset recovery business in his mother's garage for which he received an Entrepreneur of the Year award in 2001.

Lynch said he is not only a voice against amnesty for illegal aliens but a voice for the revival of America.

In order for the country to get back on track, Lynch said, "America needs a heavy dose of tough love."

Lynch traveled to Tucson the following day, where he was met by several hundred more fans, and said, "After fixing a flat tire at the most dangerous area along the Tucson border, we walked 100 yards down to the river where all the traffic comes through. I found the vehicle barrier fences removed – leaving a welcoming entryway for trucks to pass right through."

A local rancher said 43 truckloads of drugs crossed his property from Mexico since Lynch last filmed.

While they were near the river for an hour, Lynch stated not once was there a border patrol agent anywhere near them.

Lynch said, "And let me say the word 'river' is generous. It's really a puddle of streaming water about six inches deep and five feet wide," adding, "I just can't understand why we are not protecting our borders."

At the end of his presentation, one person in the audience asked if he would consider running for president.

Lynch did not rule out the possibility if the right circumstances presented themselves.

Follow Lynch on Facebook at www.facebook.com/DMLdaily.

Meanwhile, outside the Hilton Grand Ballroom, members of Riders USA, Remember 1986 Coalition and the Remembrance Project displayed the Stolen Lives Quilts to give a voice to the families and friends of victims murdered or maimed by illegal aliens.