OCTOBER 30, 2013
Celebrate Wild West Days 2013 in Cave Creek this weekend
There's something for every member of your family and all of your friends, young and young at heart, during Wild West Days so bring them all out to Cave Creek for the weekend long celebration.

Wild West Days, held annually during the first weekend of November, is a premiere destination event celebrating our grand Western heritage with non-stop family entertainment. This year's title sponsor is Sanderson Ford and Sanderson Lincoln on Bell Road.

Exciting Wild West Days activities include: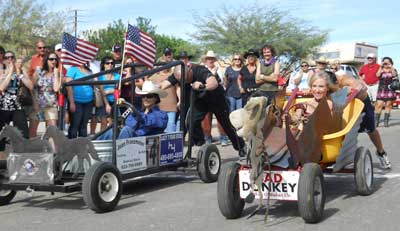 • Cowpokes 'n Little Folks: a western play land for kids and families.
• Western parade (Saturday, 9 a.m.): numerous non-vehicular entries bring the true spirit of the west to Cave Creek visitors
• Bathtub races (Saturday): Homemade bathtubs race down the street for the grand prize
• Pig races (Saturday): Pigs race as fast as they can to show their personal best to festival visitors
• Mutton Bustin' (Saturday and Sunday 11 a.m.)
• Arizona Cowboy Mounted Shooters Association – See the multi-talented mounted shooters race on championship horses while shooting at targets
• Wild West bull fest – live bull riding competitions at the Buffalo Chip
• Many equestrian events in the Hogs 'N Horses arena

Visitors also will experience wildlife exhibits, western art, a costume contest, mechanical bull riding and more. During Saturday's activities, one side of Cave Creek Road will be closed to vehicular traffic. Only wagons, horses and foot traffic will be permitted.

A comprehensive list of scheduled events and activities will be updated at www.wildwestdayscavecreek.com.

Wild West Days, now in its 11th year, is an annual experience hosted by the Cave Creek Merchants & Events Association, a non-profit business-to-business entity that serves the businesses and organizations of Cave Creek. A portion of the proceeds from the event will benefit charitable horse and other related organizations in community to help to preserve the community's western heritage.

Editor note: Stock for the wild horse race is highly bred and trained, raised by cowboys who respect and love the animals they perform with. These are not wild horses and they are not being tamed. Unfortunately, a freelance writer used that misleading term in a press release published earlier. The stock horses do this for a job, just like the cowboys they work with. It is no different than barrel racing, bull riding or mutton bustin'. Each livestock performs as it has been trained.