OCTOBER 30, 2013
Arizona Musicfest "Young Performers Recital"
November 16, 2013 at 2 p.m.; Westminster Village, Scottsdale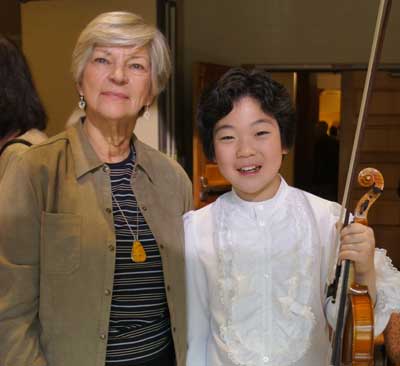 Pictured are Irene O'Hare, Arizona Musicfest Youth Performance Chairperson, with violinist David Kwak, a member of the Phoenix Youth Symphony, who will be appearing at the November 16 Arizona Musicfest "Young Performers Recital" at Westminster Village in North Scottsdale. Mr. Kwak, age 12, a 7th grader at Paragon Science Academy in Chandler, will be making his Carnegie Hall solo debut later this year, as the 1st Place winner of the 2013 American Protégé International Concerto Competition, and 2nd Place winner of the American Protégé International Piano and Strings Competition.
Courtesy photo by Vickilyn Hussey


SCOTTSDALE – They're young. They're talented. They're dedicated musicians honing their performance skills as they work their way towards becoming tomorrow's stars. And, you get to hear them for free on November 16, at the Arizona Musicfest "Young Performers Recital"!

The concert begins at 2 p.m. in North Scottsdale at Westminster Village. Outstanding award-winning young artists – David Kwak, violin; Eric Lin, piano; Lily Kwak, piano; and Tiffany Chang, violin – will perform a program that's a musical candy dish filled to the brim with delightful short classical works.

David Kwak will perform Lalo's "Symphonie Espagnole, I. Allegro Non Troppo" and March from "Love for Three Oranges" by Prokofiev-Heifetz. Eric Lin will treat the audience to "Estampes, 1. Pagodes, 2. Soiree dans Grenade, 3. Jardins sous la pluie" by Debussy. Lily Kwak will play Haydn's "Sonata in B minor, Hob XVI: 32" and "Variations on a Paganini Theme" by Berkovich. Tiffany Chang will perform "Introduction and Rondo Capriccioso, Op. 28" by Saint-Saëns and Franck's "Sonata in A major."

This is the first "Young Performers Recital" of the 2013-2014 Season. The free one-hour concert will be followed by a "Meet the Musicians Reception" with refreshments. Westminster Village is located at 12000 North 90th Street, Scottsdale 85260 (90th Street & Shea). No RSVP is required.

Please call Arizona Musicfest at 480.488.0806 for additional information. www.azmusicfest.org.