BY PETE MOHR | SEPTEMBER 18, 2013
Falcons take Raptor Bowl 2013; Strike #6 Apollo in 32-21 upset
QB Devan Norris tosses three TDs; Defense records four fumble takeaways
Employing this sportwriter's proclivity to give a name to certain events and/or the stars, I'm calling last Thursday night's Cactus Shadows-Apollo game "Raptor Bowl 2013." Falcons and Hawks, both raptors, possess intelligence, swiftness and, when it's mealtime, deadly efficiency. The #16-ranked Falcons, hosting the favored #6 Hawks, put up a solid 21 second half points, with a revived Falcon "D" holding Apollo to only 7.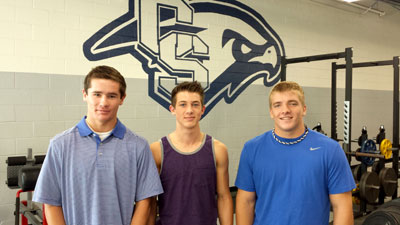 The exciting comeback victory before an overflow home crowd made it three consecutive wins for Cactus Shadows, jumping the #16 Falcons to a #8 ranking by AZcentral.com. After outscoring their first three opponents by a combined 125-41 the Falcons, like (the late) Rodney Dangerfield, finally got some respect!
If you missed R.B. '13, Raptor Bowl '14 will be played next September at (Glendale) Apollo.
Congratulations to Head Coach Greg Davis and his staff on the team's most significant "W" since Coach Davis took the CSHS football helm in spring 2011. The Falcons will shoot for four in a row when they bus to (Gilbert) Higley, Friday, Sept. 20 for a 7 p.m. kickoff.
Against Apollo, the Falcons rode the arm of soph reserve QB Devan Norris who threw three touchdown passes: his first to soph WR/PK Antonio Marchica with less than a minute to play in the first half; and TD passes 2 and 3 to JR receiver Nick Boblick. SR running back Joe Kuhlmann extended his 100+ yards rushing streak to three games and scored his eighth touchdown. In the first half, Varsity Boys Soccer player, Marchica, kicked a 45-yard field goal for the first three Falcon points. He also went 3-for-3 on P.A.T.s after the Falcons' three second-half TDs. Marchica follows in the football-soccer tradition of two-game standouts Michael Moorer '06 and Kyle Royer '07.
The game's turning point came at 11:12 of the 2nd quarter, when the Falcon "D" rose up to stuff a Hawks fourth-and-one gamble at the Apollo 40 yard line. Cactus Shadows took over and in came Devan Norris, for whom Coach Davis, who doubles as offensive coordinator, had schemed "a passing series." Davis had pushed the right button, for Norris quickly connected with Marchica. JR Payton Ringwald ran in a quarterback option for the critical two-point conversion with only 12 seconds left on the clock, drawing the Falcons to 11-14 at the break. What a momentum shift! The Hawks, who had "dominated" (according to Coach Davis) in the first half, never recovered, and the Falcons weren't about to give up the "mo." Quad-Captain linebacker Nathan Brockman was credited with two of the Falcons' four fumble takeaways. "D-Rob's Defenders" are playing tough!
Traveling to (Gilbert) Higley will be the Falcons' longest road trip of this season. Cactus Shadows and Higley met in the 2006 4A-Division II State Championship Game, won 28-14 by Phillip Aholt, Kyle Watkins, Trace Stephens & Company. You can be sure that the Knights and their fans have not forgotten.