BY LINDA BENTLEY | SEPTEMBER 11, 2013
Street closures become contentious in Carefree
Carefree and Cave Creek engaged in court consolidation negotiations
CAREFREE – During Call to the Public, Cave Creek residents Scott Dahne and Sara Vannucci spoke to introduce their new website where they will post news stories and opinions for Cave Creek and Carefree. Vannucci said it will be web-based "because that's the wave of the future."

Pete Peterson, who lives on Piedre Grande Drive, told council the town of Cave Creek rezoned Bella Vista Drive to commercial and has plans for a road that will loop between the Buffalo Chip and Harold's down Bella Vista Drive, which connects to Piedre Grande.

Peterson said the road will bring a great deal of traffic through his neighborhood and suggested closing off Piedre Grande.

Because the item was not on the agenda, Mayor Schwan said council could not discuss the matter but referred the issue to staff to investigate and possibly bring back as a future agenda item.

Schwan asked that Item 7, a special event permit application for Venues Café and partial closing of Easy Street from HoHum Road to Carefree Drive from 6 a.m. to 10 a.m. on Saturdays for its Classic and Hot Rod Breakfast, with the exception the partial closing will not interfere with scheduled festivals, be pulled from the consent agenda.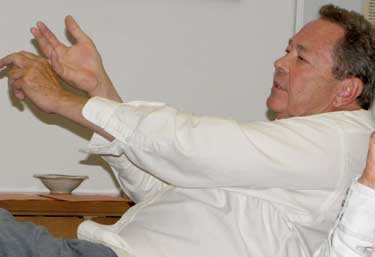 Al Swanson (r), representing Venues Café, asked, "Can we get some clarification as to why we need a permit and cannot have directional signs?"

Swanson stated, "All other events can have directional signs."

He also said they did not want the street closed nor did residents and businesses want the street closed.

Schwan told Swanson the town closes the street for public safety because people looking at and photographing the classic cars don't look where they're going.

Swanson pointed out none of the retail businesses are open during those hours, other than the Sundial Café, which also did not want the street closed and residents complain about the closure while trying to go to the post office to get their mail.

He said it seemed as though it was all about the $200 permit fee and stated, "We just ask not to be harassed."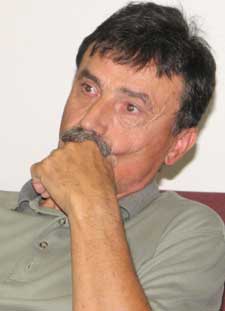 Jan Sevela (r), who owns the Sundial Café, said he was in favor of the town granting the permit but opposed the street closure.

Jeff Bergman, who owns the Wild Holly Gallery, said closing the street for 20-25 weeks in a row is not reasonable.

He said, "I've been to the car show and I don't see any reason to close the street. It's not fair."

When Schwan repeated the closure was for public safety because people walk out into the road without looking where they're going, Sevela responded, "You're protecting morons," and said it was affecting his business.

Councilman Mike Farrar asked if there had been any accidents as a result of the car club breakfasts.

Swanson said there had not been.

Vice Mayor Les Peterson reiterated it was for the safety of the people and suggested in lieu of closing the street Swanson hire a couple of security guards.

Swanson said he may only sell 30 breakfasts at $10 each and has to pay cooks and servers and other staff out of that money making hiring security unaffordable.

He asserted several times, "It's not a special event. These are just our customers."

Councilwoman Melissa Price suggested not closing Easy Street and having MCSO patrol the area.

Peterson's motion to approve the permit with exceptions offered by the mayor, whereas the road would remain open but would include signs that say the road is open but to proceed with caution or something appropriate to that effect, and eliminate the posting of directional signs, passed unanimously.

Sevela thanked council afterward, but said they "took too long."

During Current Events, Schwan announced the water company now had two level three operators instead of one. He said a level three operator is the highest level that can be achieved.

Council voted unanimously to accept a letter of intent from Sanderson Lincoln to provide the town with $250,000 for improvements to the amphitheater in exchange for naming rights.
The amphitheater will be named the Sanderson Lincoln Pavilion.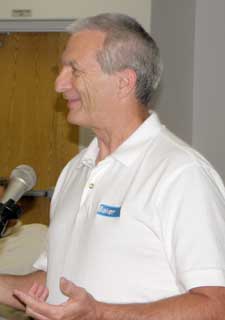 Mike Sabatini (r), the project manager from Baker, the engineering firm that was awarded the Cave Creek/Carefree Transportation Framework Study project, gave a brief update and said they will be doing extensive public outreach and will be meeting with focus groups in the afternoon and evening on Sept. 17 at the Carefree Fire Station.

Town Administrator Gary Neiss provided council with a brief presentation regarding negotiations on consolidating the Cave Creek and Carefree Municipal Courts.

He said it was originally proposed by Carefree in 2009 but they were approached again recently by Cave Creek.

Because they were told in the past that all courts lose money, Neiss said the consolidation makes sense.

He said Cave Creek's court is in transition with only temporary staff and audits revealed numerous financial and procedural internal issues, while Carefree's court is highly rated by the Administrative Office of the Courts.

As negotiations continue between the two towns, Neiss explained the following proposed concept:

Cave Creek would delegate judicial services to the Carefree Court and the consolidated courts would be known as the Carefree – Cave Creek Municipal Court.

Carefree Court staff would move to Cave Creek's court space after completion of some tenant improvements.

Cave Creek would pay a monthly base fee to cover fixed and variable costs to process cases generated by Cave Creek.

The consolidation would be for a period of 10 years with automatic renewal unless notice is given.

Carefree Municipal Court currently employs two full time employees. The new model would add one full time employee and may require a temporary employee during transition.

The tentative operational structure for the consolidated court would consist of a judge, court administrator and two court clerks with contract services for prosecutor, public defender, interpreter and jail.

The next steps would be to iron out terms, prepare an intergovernmental agreement (IGA) based upon those terms and present the IGA for approval during a joint session of councils in October.

However, according to Neiss, the IGA would then need to be sent to the Maricopa County Superior Court Presiding Judge for approval.

If approved, implementation could possibly begin around November or December with the consolidated court operating at its current space in Carefree until the tenant improvements are completed in Cave Creek, with the consolidated court relocating to Cave Creek in late winter or early spring.

Discussion of the court consolidation led to the next agenda item; discussion of the town council chambers and the town's lease, which expires in July 2016.

Under the current lease terms, the town is paying approximately $56,000 per year.

The town previously raised the notion of adding on to the Sundial building for a permanent space.

Depending on municipal interest rates, Neiss said $56,000 per year is equivalent to a $1.3 to $1.5 million loan.

He said the town has $2.5 million in its "rainy day account."


Schwan said the leased space has roof leaks and plumbing problems.

He stated Carefree has the cash to build the addition and pointed out beginning in 2016 the town will be receiving $412,000 per year from the water company to pay back a loan.

However, the town would need to plan ahead because each lease renewal is for a period of five years.