SEPTEMBER 4, 2013
Trial circulation plan scheduled for Downtown Scottsdale
A month-long trial of a one-way traffic circulation plan begins today, Sept. 4, in Downtown Scottsdale in an effort to improve safety and circulation.

These road sections will operate as one-way streets for approximately 30 days:
• Buckboard Trail – northbound only from Shoeman Lane to Camelback Road
• Shoeman Lane – westbound only from Saddlebag Trail to Buckboard Trail
• Saddlebag Trail – southbound only from Camelback Road to Shoeman Lane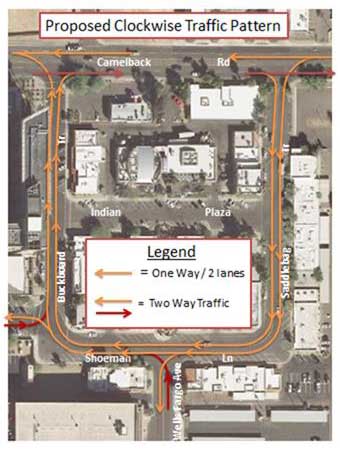 These roadways accommodate large numbers of vehicles and pedestrians during peak weekend and nighttime hours. The one-way street pattern is designed to significantly lessen "conflict points" and keep traffic moving. The pattern also is more efficient for emergency vehicles, providing an additional travel lane to pass stopped traffic. The one-way traffic circulation plan was presented to area business and property owners in August. The police department and traffic engineering will evaluate traffic patterns during the trial period.

Residents and members of the business community can send comments to Right-of-Way Manager Walt Brodzinski at 480-312-7757 or wbrodzinski@scottsdaleaz.gov or Public Information Officer Holly Walter at 480-312-2655 or hwalter@scottsdaleaz.gov.

For more information and the latest project updates, visit: www.scottsdaleaz.gov/Topics/transportation/planning/onewaystreets.