SEPTEMBER 4, 2013
2013 Hidden in the Hills Studio Tour
Featuring established and emerging artists known for quality and originality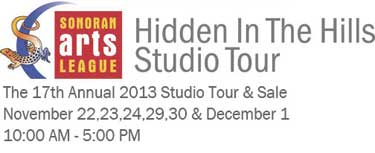 Discover spectacular paintings, sculptures, one-of-a-kind jewelry, photography, glass, ceramics and more. This popular event features artists actually working in their studios. More than 160 artists will have art on display and visitors will have the opportunity to meet the artists behind the work and learn what inspires them. No matter what you're looking for, you'll be sure to find it among the many talented artists in this highly anticipated studio tour.

Come to Cave Creek, Carefree and North Scottsdale to experience the most visible art event in Arizona. This is an extraordinary, dynamic, and FREE, self-guided tour of 46 studios and 167 working artists.

The 2013 Hidden in the Hills map will be available in mid-September. Pick up a copy at various locations around the Valley.

Make the tour easy on yourself. An online interactive map will allow you to customize your tour by artist name, studio number, address, and driving directions. Once you create a map, it can be emailed to you for use as a personal tour guide. Studio numbers identify the locations of host and guest artists and during the event, the Hidden in the Hills "lizard" signs posted along the route will help you find those studios that interest you the most.

Visit the Sonoran Arts League's website at www.sonoranartsleague.org/hidden.php.