SEPTEMBER 4, 2013
Heard Museum North Scottsdale offers free admission to Scottsdale residents Sept. 16-30
PHOENIX – The Heard Museum is extending free admission to Scottsdale residents from Monday, Sept. 16, through Monday, Sept. 30, 2013, to thank Scottsdale for continuing support of its North Scottsdale campus.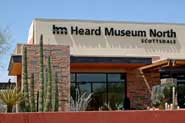 For a Scottsdale resident to be admitted free, he or she should simply present identification such as a driver's license or city water bill when visiting Heard North, 32633 N. Scottsdale Road, at Ashler Hills Drive. Adults are normally charged $6 to enter the North Scottsdale museum.

"The Heard Museum is proud of its partnership with the City of Scottsdale and its residents," said Heard Museum Director and CEO James Pepper Henry (Kaw/Muscogee Creek). "Our community location, Heard Museum North Scottsdale at the Summit, is an integral part of the cultural life of Scottsdale, and your continued support is appreciated. We look forward to another successful year of offering the best in American Indian art and history to residents and visitors alike."

Offering free admission to Scottsdale residents in the last half of September also will provide a grand kickoff for the museum's 2012-2013 season, which includes the debut of a new exhibit telling the story of American Indian fashion over the past half-century.

American Indian Fashion: From Lloyd Kiva New to Now opens to the public on Saturday, Nov. 23 with works from Native designers. Included in the exhibit are including Kiva New (Cherokee), a successful Scottsdale fashion designer in the 1940s and 1950s who later helped found the Institute of American Indian Arts; acclaimed designer Virgil Ortiz (Cochiti Pueblo); and recent Project Runway finalist Patricia Michaels (Taos Pueblo) as well as other noted designers from Indian Country.

In addition to exhibits and special events, Heard Museum North Scottsdale also has an award-winning Shop, where visitors can bring home wonderful pieces of art, many of which are created by artists represented in current exhibits and the Gallery Café, which is open for lunch.
Pepper Henry invites all to visit Heard Museum North Scottsdale soon.

Heard Museum North Scottsdale – 32633 N. Scottsdale Road, Scottsdale. Information: 480-488-9817 or visit heard.org/north.