SEPTEMBER 4, 2013
Bil Keane statue, memorial pavilion coming to Railroad Park
SCOTTSDALE – Cartoonist Bil Keane's insightful humor bought smiles and chuckles to millions of fans.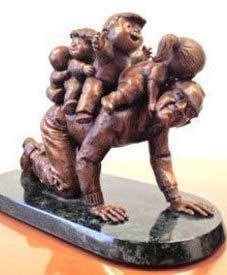 That legacy will live on through a larger-than-life bronze statue and pavilion to be dedicated Nov. 8 at Scottsdale's McCormick-Stillman Railroad Park, 7301 E. Indian Bend Road.

Keane's syndicated "The Family Circus" cartoon appeared in roughly 1,500 newspapers around the world. He was a Valley local, however, who found much of his material in the interactions of daily family life. Keane lived in Paradise Valley before his passing in 2011 and was a frequent visitor to the nearby Railroad Park and other Scottsdale attractions.

The 9-by-7-foot bronze statue planned for the park will be called "Gitty-up Daddy" and will be the centerpiece of a 36-foot-wide covered pavilion. A potential museum is in the discussion phase. It would be located in the adjacent Maricopa Depot and would showcase The Family Circus artifacts.

Donations from the public and the Keane family will pay the entire cost of the project, estimated to be roughly $100,000. Mary Hamway, a former Paradise Valley vice mayor, spearheaded the fundraising effort.

The award-winning Railroad Park was selected for the memorial because of its accessible location and its popularity with families raising young children. With its railroad rides and carousel, the park probably hosts more children's birthday parties than any other location in Scottsdale.

Zagat Surveys lists the park as one of the top 50 places in the U.S. for children.

"I think the park is a perfect fit for the Keane statue and pavilion," said Scottsdale Mayor Jim Lane. "Scottsdale is a family-focused community and Bil Keane's humor celebrated the magic of family through the unique perspectives of both children and parents.

"Bil Keane's cartoons are timeless and Scottsdale is honored to host a memorial that will delight and enlighten future generations about his life and art."

Details on the Nov. 8 dedication are pending. For more information on the McCormick-Stillman Railroad Park, visit: www.scottsdaleaz.gov/parks/RailroadPark.