BY LINDA BENTLEY | SEPTEMBER 4, 2013
Bashas' Inc. enters non-prosecution agreement over meat mislabeling
Bashas' agreed to disgorge the $1.5 million from sales it derived from its misconduct in the form of restitution payments to area food banks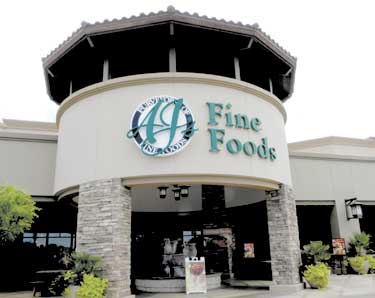 PHOENIX – Last week, John Leonardo, U.S. Attorney for the District of Arizona, announced Bashas' Inc., a family-owned Arizona corporation that operates over 100 grocery stores in Arizona, California and New Mexico, including AJ's Fine Foods, has agreed to execute a non-prosecution agreement (NPA) over meat mislabeling practices at certain AJ's locations between January 2010 and February 2012.

The NPA came as the result of an investigation conducted by the U.S. Department of Agriculture (USDA), whereas it was determined that between 2010 and 2012, employees within the meat department of multiple AJ's locations in Arizona followed a practice of mislabeling two particular meat products without upper management's knowledge or approval.

The investigation revealed that "Prime" tenderloin steaks sold at certain AJ's locations were actually "Choice" tenderloins, a mislabeling practice that resulted in customers being overcharged, and certain AJ's locations mixed expensive but non-Kobe cuts of meat into ground beef that was mislabeled and sold as Kobe-style ground beef.

The USDA determined Bashas' generated nearly $1.5 million in total sales through the sales of those mislabeled meat products.

According to the U.S. Attorney's Office (USAO), its decision to enter into the NPA with Bashas' was based on careful consideration of factors set out in the Department of Justice's "Principles of Federal Prosecution of Business Organizations."

The USAO's decision to execute the NPA was based on Bashas' full and ongoing cooperation with the USDA's investigation; its willingness to accept full corporate responsibility for its employees who engaged in misconduct; its willingness and agreement to undertake significant remedial measures to ensure such misconduct will not recur; its agreement to disgorge all of the sales it derived from its misconduct in the form of restitution payments to area food banks; the absence of proof upper management was aware of or ratified the misconduct; and the USDA's conclusion that the misconduct didn't create any public health risk.

Bashas' has agreed to provide $1,472,487.20 (the total amount of sales generated from the sale of misbranded meat) to the Tucson Community Food Bank, St. Mary's Food Bank, United Food Bank, the Salvation Army, St. Vincent de Paul Food Bank and the Association of Arizona Food Banks as complete restitution for the misconduct of some of its employees.

The NPA requires full restitution to be paid no later than March 31, 2014, with Bashas' responsible for determining how to allocate the distribution among the recipients.

If, during the two years following execution of the NPA, the USAO determines Bashas' or members of its upper management deliberately gave false, incomplete or misleading testimony or information during the investigation; has committed any knowing and intentional criminal conduct relating to the misbranding of meat products after the date of the NPA; or has otherwise deliberately violated any provision of the NPA; Bashas' could be subject to criminal prosecution.

According to the "Agreed Statement of Facts" (ASF) attached to the NPA, each of the 12 AJ's locations in the Phoenix metro area and one in Tucson employed a meat manager who was responsible for overseeing that location's receipt and sale of raw beef, fish and poultry.

Those managers were supervised by one person, AJ's Meat Specialist.

Bashas' filing of Chapter 11 bankruptcy in 2009 resulted in downsizing of its administrative support teams for purchasing meat for other divisions of the Bashas' organization.

The NPA called Bashas' decision to consolidate numerous administrative responsibilities under one position, "a poor one;" one which failed to provide adequate corporate oversight over the operations of individual AJ's locations.

As a result, some of AJ's meat managers were able to implement fraudulent and deceptive meat-labeling practices without upper management's knowledge.

As a result of the investigation, the USDA determined the offending AJ's locations sold approximately 17,636 pounds of mislabeled "Prime" tenderloin steaks and 139,861 pounds of mislabeled "Kobe" ground beef to customers, generating close to $1.5 million in total sales from those products.

During interviews conducted by USDA investigators, meat managers who engaged in the misconduct, or authorized other meat employees to engage in the mislabeling practices, offered a variety of explanations for their conducts.

According to the ASF, some managers said they felt "entitled" to "upgrade" the tenderloins because they didn't agree with USDA's assigned grade of "Choice."

Others stated they believed it was OK to label and sell certain tenderloins as "Prime," even if those tenderloins had been delivered in a "Choice" box, as long as the individual tenderloins met "Prime" grading requirements.

Yet other employees said they would engage in mislabeling whenever the AJ's distribution center ran out of "Prime" tenderloins. They engaged in that practice because they said they didn't want to disappoint customers who expected a full range of products would be available.

Then there were employees who said they engaged in the mislabeling because they felt pressure to satisfy their store's profit-margin target, even though AJ's did not provide additional compensation to managers who met those targets or discipline against managers who failed to meet those targets.

Bashas' agreed to a series of remedial measures through the NPA, including discipline (ranging from suspension to termination, depending on severity of misconduct) against every meat manager who engaged in misconduct related to the mislabeling of "Kobe" ground beef and/or "Prime" tenderloin steaks.

Bashas' also agreed to institute new grind policy with detailed instructions for all AJ's locations, require semi-annual grind training for all AJ's meat market employees, institute supply chain review, implement nomenclature standardization, prepare a monthly movement report to identify the amount of each product delivered to the store and sold, require strict adherence to the USDA's grade assignments, appoint a member of Bashas' upper management to serve as Chief Compliance Officer (CCO), plus other remedial measures.

The CCO will be responsible for overseeing Bashas' compliance with the NPA and ensure all documentation related to the remedial measures will be maintained by Bashas' and available for inspection by a representative of the USAO or USDA.