BY LINDA BENTLEY | SEPTEMBER 4, 2013
Three arrested in state's largest-ever food stamp fraud enterprise
(l-r) Kameel Sweiss, Ameer Sweis and Faday Sweiss


PHOENIX – On Aug. 29, Arizona Attorney General Tom Horne announced the arrests of Kameel Sweiss, 51, Ameer Sweis, 22, and Faday Sweiss, 33, all of whom worked at K&S convenience store at 6116 N. 27th Ave. in Phoenix for illegally conducting an enterprise, fraudulent schemes and artifices, money laundering, unlawful use of food stamps and computer tampering.

Phoenix Police Department SWAT units executed search warrants at the K&S convenience store and the Sweiss' Peoria home at 8:30 a.m. on Aug. 28.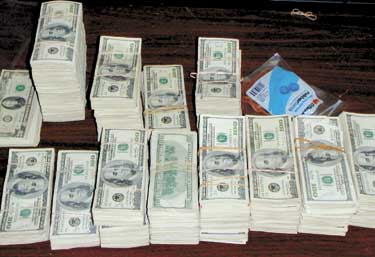 Evidence seized in the raid included $32,876 in cash, $550,480 in cash held in a private bank vault, bank records, extraneous food stamp cards, business ledgers and three vehicles.

Horne stated, "This business was stealing taxpayer money by allowing a person with a food stamp card to purchase something small, such as bag of chips, and then overcharge that card to make a fraudulent profit. This seizure is the largest in our state's history with regard to food stamp fraud and should serve as a strong warning to those who continue to engage in these kinds of illegal actions."

The interagency group, called "Strike Force: Quest," was a coordinated undercover operation involving the Arizona Attorney General's Office, Phoenix Police Department, U.S. Department of Agriculture, Office of the Inspector General and the Arizona Department of Economic Security.
The Arizona Department of Revenue took part in the search of K&S convenience store in an ongoing and separate investigation.

All three defendants made their initial appearance before a judge at 8 p.m. on Wednesday and were each ordered held on $100,000 bond.

Additionally, all three were required to surrender their passports as a condition of release.
The judge added a stipulation that should the defendants post bond, they will be required to wear an ankle monitor.

This was the fifth store busted this year by the interagency undercover operation.