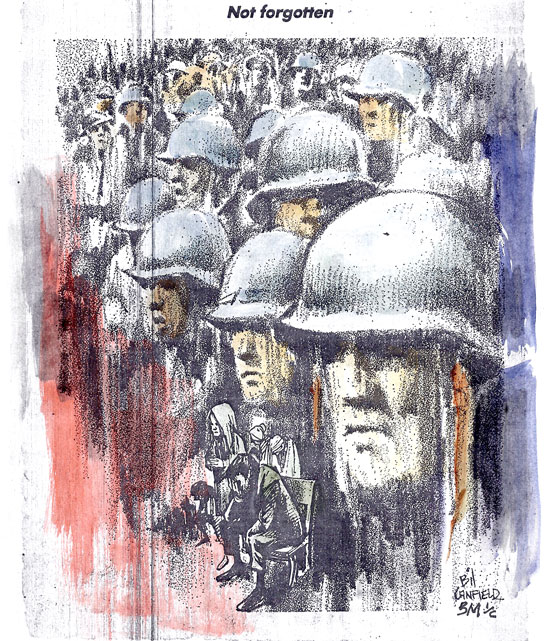 The "N word"

Today we reflect on MLK's historic "I have a dream" speech, but in the endless wake of the Zimmerman verdict, the race debate dominates political dialog with accusations of racism, targeting, even of police murdering black teens. Use of the "N" word appears a more damnable offense than physical assault. The sharp wedge of racism has been driven down between us by an "all inclusive" administration with the aid and support of a willing press.

Political correctness be damned. I break from convention and apply an "N" word to the elegant grifter who is our President, actually two, beginning with narcissus. Not in my lifetime has there been a president so taken with his own image, voice and message. The skillful marketing removed, the lies, scandals, political failings and Marxist agenda are revealed; the content of his character.

After Travon Martin was shot, making it all about himself, the President said it could have been him, however after black teens in Oklahoma were involved in shooting a white Australian ballplayer he didn't relate. This post racial President is in fact the most racial, widening the gap not bridging it as Dr. King dreamed.

Let's add a second "N" word – NOTHING. That is what this man has done to improve conditions in the black community that MLK sought. The first black president has done not one single substantive thing to improve black unemployment – now double that of white America – black on black crime, even in home town Chicago, inner city violence, drug abuse, failing black schools or the out of wedlock birth rate near 70 percent. Nothing! These are voters and families he promised help. He did – Nothing!

The bonus round "N" word, NEVER, in this context; never (again) vote for a man, black or white, so disingenuous and ill equipped to lead the free world and charged with protecting and defending The Constitution of the United States of America.

Randy Edwards
Cave Creek

Waste Water Treatment Plant
I am amazed each time someone points out to me another Mike Chutz allegation of mismanagement by former town councils. Here is another one of his dreadfully uninformed allegations recently passed on to me about the town Waste Water Treatment Plant (WWTP): "then built a new plant that is substantially under-utilized." Duh! Hello? Of course it is under-utilized and if it wasn't, you would be building yet another new one in a couple of years.

Here is some summary background information that may be useful in understanding the town's actions:

The then existing WWTP was a small package plant installed in 1998, certainly in the worst residential location, with a capacity of about 120,000 gallons/day (gpd). It evidently never performed satisfactorily, had odor problems from the outset and by 2006 flows exceeded 120,000 gpd triggering the federal Clean Water Act criteria for replacement (and a sweet subsidized loan).

In early 2006, the Town Manager assembled a small team of "technical experts" from the community to work with staff and advise them on construction of a new plant from procurement through operation. I was a member of that team.

We worked for about a year studying the types of systems available (recommended a sequencing batch system over a bio membrane system based on first costs and long term O&M costs), capacity (recommended 1.5 million gallons /day (mgd) capacity for town build out and anticipated commercial activity on Carefree Highway and Cave Creek Road in 20 years, recommended a design-build-operate procurement and developed all of the procurement documents.

Acted as the Selection Committee, developing the Request for Proposals, reviewing all Proposals, recommending a short list, interviewing the shortlisted design-build-operators and making a selection recommendation to the Town.

Long story short, the very professional town staff working hand in hand with its citizens ultimately built a magnificent WWTP currently rated at 0.71 mgd and expandable to 1.42 mgd that will service the town for a minimum of 20 years. Current flows average about 240,000 gpd.
My advice? Never let an out of town lawyer who knows nothing about the town or its issues tell you what is wrong in the town and ignore his never ending and uninformed allegations.

Bob Williams
Cave Creek
A very special message from Chaplain Dan to Packages From Home
Just to update you on our situation. We will be leaving in late Sept - early Oct. Our mail delivery stops 31 August. We'd love food items. I think we are good on hygiene items.

I am wondering if your organization would consider another request from us – not sure if you can do the following: As we are closing bases here, we have begun to plan our return. As the Squadron Chaplain, I've been asked to see if we can do something special for our single soldiers who live in the barracks. One of the rules upon our return - for various reasons - is no driving for the first 24-48 hours. Many of the single soldiers who return won't have family there either. They will probably visit them during Christmas when we will have a month off for leave. We'd like to offer gift cards to a local restaurant that will deliver or is a nearby walk as a "thank you - your first meal back is on us."

We were thinking each Soldier would get a $10 gift card to one of the following local restaurants:

Subway
Dominos Pizza
Papa Johns
Dunkin Donuts
Pizza Hut
Charleys
We need about 200 $10 gift cards from these places.
Your organization can send a small encouragement note and the gift card to:
CPT Andrew Radbill
Attn: Single Soldier Reintegration
HHT 1-89 CAV, 2BCT
Fort Drum, NY 13602
CPT Radbill will have each note and gift card placed in the soldier's room.
Thank you so much for considering this request. You have done so much and we appreciate your support!
Blessings.

Chaplain Dan
Utilities don't want consumer choice
Nick Dranias was correct when he opined in the August 26 Arizona Republic that "Utilities don't want consumer choice." And why should they? Why would any company give up guaranteed profits and guaranteed future growth? But, on the other hand, why should Arizona electric consumers be denied the choices and lower prices that a competitive market would bring?

Electric utilities in Arizona made a big mistake when they went along with allowing the Arizona Corporation Commission (ACC) to effectively manage part of the utilities operations by mandating a portion of the generation source that they must use (the Renewable Energy Standards). Now utilities realize that the portion of their customers who produce their own solar will bankrupt the utilities because these customers do not pay the full cost of their demands on the electrical system. APS and some others are trying to get the ACC to change the rates for these customers (rates known as "net metering").

A much better idea, as suggested by Nick Dranias, is to simply end the monopoly and let the utilities compete. Government guaranteed monopolies simply do not make economic sense. They do make political sense because, like any regulated industries, the regulations allow those with political power to get cheaper rates at the expense of those with less political power. But all consumers pay more because monopolies are never as efficient as a free market company and they stifle innovation which prevents consumers from receiving the benefits of changes in rapidly evolving technologies.

Some will argue that these monopoly regulations once made sense but today's rapidly changing technology makes them less viable. Actually, such regulations never made any economic sense (even though they might have made political sense as I previously outlined). These regulations were supported by the regulated utilities with the argument that they wanted to protect consumers but the real reason for these regulations and for most government regulations is to protect the regulated entity from competition.

Finally, there is one truth that has become obvious to me as I attend meeting after meeting where arcane economic theories and incredibly complex new technologies are explained. That truth is that there is simply no fair way for some government bureaucrat to determine what any consumer should fairly pay for any given amount of electricity. That determination can come only from the interactions in a freely competitive market. Let's get there as soon as we can.
Roy Miller
Phoenix
Thank you from Anthony, an American soldier in Afghanistan
I wanted to send you this e-mail to thank you for the package that I received today. I opened the box at the community table were we put the care packages that are received and it was cleared out in a matter of minutes. This might not seem like much but normally these packages can stay there for hours while people slowly pick at them. That was not the case with your box of snacks; they were a huge hit. So thanks so much for what you do.

I am in the Army and currently serving overseas in Afghanistan with the 101st Airborne Division (Air Assault) for the second time. Before joining my current unit, I completed two tours in Iraq one in northern Iraq and the other in Central Baghdad area. So in total I have been deployed four times and upon the completion of this tour a total of about 51 months in a combat environment. However, I do not complain and actually, I have taken pleasure in being part of these missions just knowing that I was part of something important. I have been deployed four times mentioned above and lived in Washington state and Germany. Both places were great places to live and I loved seeing more of the world and experiencing different cultures.

So a little about me, about thirteen years ago I married Amanda Miller (Mandi) who completely rewired what I can admit now was a degenerate with ambitions but no focus. I will forever owe my present to the woman that I fell in love with all those years ago. She was the one that pointed me in the direction of joining the Army about eleven years ago. We have five children and one dog, 3 boys and two girls. Well, if you add in Gunther (60 pound black lab), 4 boys.

I just want to thank you for what you are doing; this box brought a lot of smiles to the faces of many soldiers. I know in my request form I wrote that I have about 20-25 soldiers. Those are the soldiers that fall under my position. However, the boxes sit in a common area in our office and more than 80 people come in to enjoy these care packages. So I know, sending the box, there may have been an expectation that you would be bettering 20-25 lives but the truth is you had an impact on more than 80, so thanks once again.
V/R
Anthony
Low-cost drugs, ill-gotten gains
Some major American healthcare providers are padding their bottom lines by exploiting a federal program meant to help low-income patients. This behavior is netting them billions in ill-gotten gains. And it could be preventing many vulnerable Americans from accessing the low-cost drugs they need to treat and prevent illness.

This abuse needs to be stopped.

In 1992, Congress created a program – known as "340B" – to help caregivers serving disproportionately large numbers of low-income beneficiaries and uninsured patients. Under 340B, drug manufacturers are required to sell their products at a discount to such institutions. The discounted prescriptions are dispensed either through the caregiver's in-house pharmacy or through a contractual arrangement with an outside pharmacy.

340B has a noble cause. And many of the medications discounted through 340B do in fact go to clinics, hospitals, and medical facilities providing care almost exclusively to uninsured and poor patients.

However, some 340B participants are exploiting the program.

340B only requires caregivers to meet certain minimal thresholds for the number of medically underserved people they treat. For many hospitals, these eligibility standards are easily reached, and some are benefiting from the program's deep drug discounts while still serving a relatively affluent clientele.

Moreover, participating caregivers are not actually required to pass drug savings along to their patients. The huge discounts they're getting from pharmaceutical manufacturers don't necessarily translate to lower pill prices for uninsured and low-income patients.

Given what we have recently learned about some hospital administrators inflating charges for a broad variety of basic services, there's good reason to believe many sell those discounted drugs at full price to insured patients and then pocket the difference. Indeed, a report by the Raleigh News Observer last year found hospitals that "routinely mark up prices on cancer drugs two to 10 times or more over cost. In some cases, the mark up is far higher."

Meanwhile, the vulnerable patient populations 340B was intended to help are often still stuck struggling to gain access to affordable pharmaceuticals.

In large part because some healthcare providers are abusing the 340B system, the size and cost of the program are ballooning out of control. The Berkeley Research Group estimates the total the total value of all the medicines sold through the program will more than double from $8 billion in 2010 to $19 in 2016.

Such a surge in expenses might very well be worth if it 340B was largely helping needy patients. But it is not clear that this is actually happening. Although 340B was created to help low-income patients obtain the medicines they need, it has turned into a revenue generator for many hospitals.

Caregivers are now allowed to qualify for the program's deep drug discounts without passing along those savings to patients in need. Administrators are getting rich off a well-intentioned public program. Too many uninsured and poor patients still don't have access to discounted drugs. 340B needs to be fixed.
Peter J. Pitts, President
Center for Medicine in the Public Interest
In Washington, ideology need not reign supreme
As I speak to people about the Congress, one question arises more than any other: Why is Congress gridlocked? People are perplexed and disappointed with its performance, and are searching hard for an answer.

The roots of Congress's dysfunction are complex. But the fundamental reason is that real differences in beliefs about government exist among the voters.

Conservatives place a heavy emphasis on liberty, individual freedom, and self-reliance. They have little confidence in government's ability to play a role in improving society or the economy, and many of them look upon government as destructive, a force that undermines our basic freedoms.

Moreover, a belief has taken hold among conservatives in recent years that compromise and accommodation are betrayals of their cause. This has put great pressure on GOP leaders not to budge in their negotiations with the White House and Senate Democrats.

Meanwhile, on the "progressive" side there is much greater emphasis on using government to narrow economic disparities and help those at the bottom of the income scale. They emphasize equality of opportunity for all and individuals' responsibility to the community around them. While they do not favor a radical centralization of power in the federal government, as some conservatives charge, they are more willing to accept government action — and the legislative compromises that make it possible.

The gap between these views appears unbridgeable. It is not.

That is because most Americans find themselves somewhere between the extremes, able to see merit in both conservative and progressive ideas. When I was in office, I often found myself thinking that many of my constituents were conservative, moderate, and liberal all at the same time. That hasn't changed. They may be wary of excessive government, but again and again they turn to government at some level to help solve the problems they complain about, and they want it to work effectively and efficiently. More than anything else, Americans want to see moderation and cooperation from their political leaders.

In the end, Congress usually ends up about where most Americans want it to be. So I'm not surprised how, when dire problems confront them, both conservatives and progressives in Washington find their inner pragmatist
Lee Hamilton, Director
Center on Congress at Indiana University
To the Congress of the United States of America
It is not farmers, carpenters, bricklayers or storekeepers who create recessions, depressions or wars. Our problems start with you the Legislative Branch of government which, by way of lobbyist groups and gerrymandering, creates laws with no regard for the American people.

"In order to form a more perfect union," you have established a platform for your own wellbeing. By your legislation the Constitution has become a tyrant. You are not Americans. You are Democrats and Republicans.

There is no justification for your blind partisanship. Your ability to complicate the simplest of legislation is consistent with your inability to lead this country. Your philosophy on protecting the American people is flawed and inconsistent with the times. Your tolerance of those determined to exploit our weaknesses is incomprehensible. While the people go from cashing paychecks to being homeless, waiting in line for food stamps, you (Congress) turn millionaires into billionaires. Your actions stain the fabric of a democratic society.

You, with such power to do good, are instead subverting our very roots and undermining the core values of our Constitution. Our government is responsible for making sure that corporations who do business in the United States have the financial wellbeing of the people in mind and you have failed miserably. By way of lobbyists, you (Congress), have become lap dogs to corporate greed. You have turned a deaf ear and a blind eye and need to be reminded that you are because "We the people" allow you to be.

If "We the people" do not find ways to inflict concerns on our government and the special interest groups that it represents, our future will continue to be a struggle. When trust and faith in our political leaders are lost to fear and despair the prospect of insurrection becomes a reality.
William Henry Nolan, Jr.
Bellevue, Pennsylvania