AUGUST 28, 2013
The Big Heap features vintage, handmade, salvage, recycled and repurposed goods
CAVE CREEK – The Big Heap Vintage and Handmade Festival, which will take place November 15 – 17 in Cave Creek, Ariz., from 9 a.m. – 4 p.m. each day, has lined up an impressive array of vintage and antique dealers and artisans.

The festival's unique vendors include favorites Diablo Forge, Bella and Bruiser, award winning jeweler, Lilia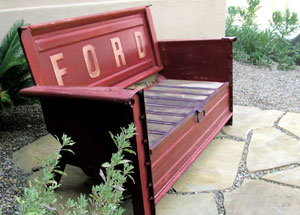 Corona, Fiber and Fire, Paris Montana, Vintage by Jen, Rethunque Junque, Vintage Bliss, Grizzly Iron, the Salvage Company, Whimsical Garden Things, Vagabond Xchange, Rookie Lucas, Sugar Jams, sculptor Terry Pyland, and Jack and Cat Curio, to name a few.

"We're continuing the public arts program, Pay it Artward," says Lori Cowherd, co-founder of The Big Heap. "This program allows an artist to create a piece of art for, or at the festival, and gives visitors the opportunity to pay $1 for a chance to win the piece, with proceeds going toward funding a selected artist to create a piece of his/her own to be donated to a public space. This year we feature Phil Womack, a sculptor who will create one of his highly sought after truck benches for the raffle. The winner will be announced on the last day of the event."

Founders Mickey Meulenbeek and Lori Cowherd continue looking for ways to promote new talent and get it in front of the masses. During the festival, visitors will be entertained with music and belly dancers and several gourmet food trucks will be available to satisfy even the most discriminating taste.

The Big Heap will be held at 38410 N. School House Road in Cave Creek, Ariz. The entry fee is $5 for adults; there is no charge for children 12 years and younger. For more information, details and directions, visit: www.thebigheap.com.