BY JACK FLYNN | AUGUST 21, 2013
Moving? Never buy cardboard boxes again!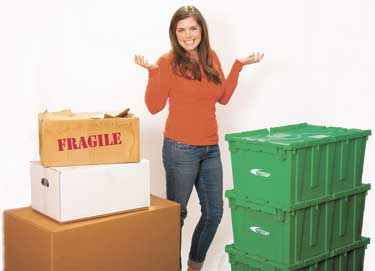 Greenway Boxes saves you time, money and the environment. Greenway is the Valley's Cardboard Moving Box Alternative! Greenway will deliver eco-friendly, reusable, plastic moving boxes right to your door. No hassles! No stress! After you pack your belongings and move, Greenway will pick up the boxes at your new location. It's that simple.

No more cardboard buying excursions. NO MORE standing in long checkout lines, NO MORE schlepping cardboard to and from your car, NO MORE messy tape box assembly, NO MORE cardboard breakdown and finally, NO MORE disposal of the entire mess.

Greenway boxes are cleaned, sanitized, recyclable, industrial-grade plastic boxes with attached hinged-lids that can be used up to 400 times; thereby reducing the number of cardboard boxes finding their way into Arizona's landfills.

The "greenways" have ergonomi-cally built-in handles for easy lifting, stacking, packing and moving. Each order receives FREE zip ties for extra security and labels for easy organizing.
Time is a precious commodity. Giving Greenway gift certificates to family, friends, co-workers, employees and customers is one sure way to let that special person know you're thinking about them.

Give that special someone the "Gift of Time." Do you know someone moving their home or office? Want to give them a unique house warming gift? Take the guess work out of your gift-giving. Show how much you appreciate them with a Greenway gift certificate to make their move more enjoyable, less stressful, and allowing them more time to spend with their family.
Who wants to enjoy some Whoopie next time you move?

Webster's Dictionary describes "Whoopie" as an exuberantly joyful celebration. Greenway Boxes wants to ensure every moving box rental customers' moving experience is a "little sweeter" and exuberantly more enjoyable. Greenway Boxes delivers a FREE, four-pack of delicious butter cream-filled Whoopie Pies from the Whoopie Baking Company with your rental package order.

Call 480-433-4086 or order online at www.MoveTheGreenway.com and get ready for a great moving experience and your scrumptious sweet treat delivered to your door. You'll be glad you did.