BY MARIELLE D. MARNE | AUGUST 21, 2013
Amazing new owners for Amaro Italiano Ristorante yet same sumptuous cuisine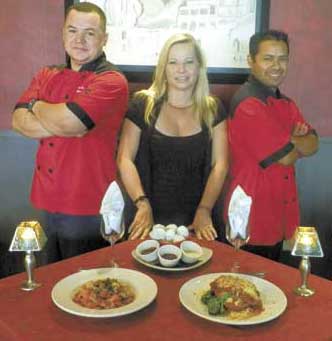 Amaro's two classically trained Chefs with co-owner Terri Woodmansee and two of their most popular dishes: Chicken Parmigiano and Tagliatelle Amatriciana and their famous dessert – Zeppoles with three different dipping sauces.



Amaro Italiano Ristorante is under new ownership, and it's not just for pizza! Of course, you can order pizza – the Diavolo being a popular choice – and it's even baked in a pizza oven imported from Italy that requires special wood to give the dough an authentic taste. And while every pizza served is "to die for," neighbors will miss out on the true dining experience new owners John Rowan and Terri Woodmansee want you to have if that's all they try.

The restaurant, complete with bold colors, dramatic artwork and warm lighting, looks upscale, yet it's completely family-friendly. There's a kids' menu with classic fare the little ones love: mac and cheese, spaghetti, chicken fingers and fries!

The culinary choices are extensive for adults, favorites being Tagliatelle Amatriciana, a new surf and turf (filet wrapped in bacon along with shrimp) and Chicken Parmigiano. The secret for the success of the Chicken Parm stems from the fact all the bread at Amaro is baked daily and the breading comes from those homemade loaves. If you've been to the former Amaro Pizzeria and Vino Lounge and loved it, you'll find the same extraordinary chefs (and most of the staff) at Amaro Italiano Ristorante. The menu will be the same with added specials, but the pasta will remain homemade, the desserts will still be decadent (try the Zeppoles – Italian doughnuts) and the Mozzarella will never be anything less than hand-pulled.

The bar is extensive, 70 different types of wine to enjoy, and happy hour is from 4-6 p.m. From Wed. through Sat. diners can listen to live acoustic music. Takeout, catering and even private events like rehearsal dinners or wedding receptions can be accommodated. Rowan and Woodmansee have even devised a "romantic night out dinner" that includes a rose, wine, appetizer, entree and dessert for a special price. Call 480-502-1920 for reservations and details.

Amaro Italiano Ristorante is located 28234 N. Tatum Blvd. (by Ace Hardware). For hours and menu, see amaroaz.com.