BY MARIELLE D. MARNE | AUGUST 7, 2013
Red Velvet Tailoring has alterations sewn up and professional shopping in the bag!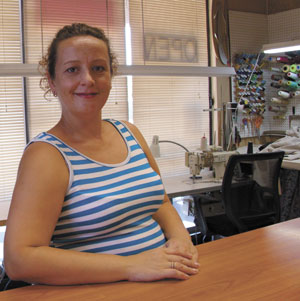 CAVE CREEK - As summer wanes, folks tackle their to-do lists for the upcoming season. This is the ideal time to drop off your clothes to be taken in (or let out) at Red Velvet Tailoring, or if you want a whole new wardrobe, talk to proprietress Katerina Miroshnichenko about her professional shopping services.

"Many people just don't think about taking a professional shopper with them, but it really helps when you're not sure what looks good with your body type. I also find a lot of young people struggle to pick out clothes. To me, anyone can find a dress, but you have to find YOUR dress, and that's where I can help," Katerina explained.

Once you've found physique flattering fashions, they may need a tweak - hem up or down, plunging neckline less plunging - and Katerina not only possesses the skill to make alterations but also the experience to nix shortcuts!

"I have customers who will say just take it in here or tuck it under there and I have to tell them no, that won't lay right. If you don't do the alterations correctly, it looks like bad plastic surgery! It's a matter of doing it right."

Every stitch is sewn with excellence, whether it's on a $200 pair of designer jeans or a $20 pair from a thrift store. Katerina takes pride in her work, even striving for perfection, and that's no doubt why she has seen such success over the last four years.

Katerina loves her customers as much as they love her, and for those who may not have heard, she's having a baby in November! Anyone who may need items altered or handmade for the holidays are encouraged to bring them in early so she can assure they are completed on time.

Visit Red Velvet Tailoring at 6554 E. Cave Creek Rd. (near DQ) or call 480-208-8699 for hours.