BY LINDA BENTLEY | JULY 17, 2013
Cave Creek's ambitious agenda takes council late into the night
Trenk called APS a monopoly and its proposal nothing more than state-sanctioned corporate welfare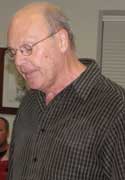 CAVE CREEK – Call to the Public brought David Smith (r) to the podium during Monday night's council meeting to say he attended the previous week's council workshop and noted how the mayor, vice mayor, council members and the town manager were invariably cordial to one another.

Smith asked, if the mayor, vice mayor and council members could work together and put the recent campaign and termination of the former town manager behind them, "Isn't it also time for the citizens of Cave Creek to do the same?"

He urged citizens to "bury our hatchets" and said, "We elected the council. We should respect that decision and work with council members to ensure they have public input as they make decisions that will guide the town's and our future."

Scottsdale resident Chris Kempster introduced himself as the chairman of the Cave Creek/Carefree Chamber of Commerce and mentioned the benefits of joining the Greater Phoenix Economic Council (GPEC).

Terry Zerkle stated he concurred with Smith's comments and said he delivered a letter to Interim Town Manager Rodney Glassman that afternoon asking that he investigate changes made by staff to the water master plan since it was adopted by council on April 16, 2007.
According to Zerkle, Glassman said he would defer to council.

Zerkle urged council to direct an investigation and take up the matter in the immediate future.
Mayor Vincent Francia stated the consent agenda included the cancellation of the Aug. 5 and Sept. 3 regular council meetings as well as the authorization for the interim town manager to execute the town's membership with GPEC.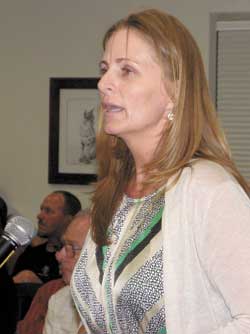 As he introduced Sandy Fabritz (r), director of Arizona Department of Water Resources (ADWR), to give a presentation on the state of water in Arizona, Francia announced, "Council has an ambitious agenda before us."

Fabritz complimented the town on what it has done to improve its water system and provided a history of water in the area.

She said SRP was the first reclamation project in the United States and CAP took nearly 50 years to get put in place.

According to Fabritz, the population of Arizona has increased by almost 500% since 1957.
She said a supply and demand study showed "we are going to grow and will eventually outstrip our supply," and explained short term and long term strategies for the future of water in Arizona.

Councilman Mike Durkin asked if ADWR had information about wells and the aquifer in the Cave Creek area and asked how they would know, stating since he received his well permit many years ago, no one has ever contacted him for updated information.

Fabritz stated wells that produce less than 35 GMP are exempt.

Council unanimously passed the Fiscal Year 2013-2014 budget.

Town Engineer Wayne Anderson explained the need for a 10-year pavement maintenance program to be paid from the Public Works/HURF (Highway User Revenue Fund) account, which was passed unanimously by council.

Anderson said, "It's not cheap, but it's a good thing to do."

He said the plan would identify roads, when they were built, the condition they're in and when maintenance would be required for 10 years out and beyond.

Janelle Haff spoke during public comment to say she lives on Honda Bow Road, which falls under the annexation agreement that states their road is not to be improved.

Haff went on to say that neither she nor any of her neighbors were notified when the road was being chip sealed.

Anderson said the road was not chip sealed and was only treated for PM-10 fugitive dust.

As council was moving to authorize the seven permanent members to the water advisory committee, comprised of four from Carefree, two from Cave Creek and one from Desert Hills, and six alternates, which included all the parties who submitted resumes, Vice Mayor Adam Trenk said he felt Carefree was over-represented.

Council then voted to add Robert Morris from Cave Creek as a permanent member and making Carefree resident Melissa Price an alternate instead.

Utilities Manager Jessica Marlow provided council with a history of the water master plan and said there were three philosophies they could utilize, do nothing, reactive or proactive.

She said the goal is to replace things before they fail and they have been able to do some improvements utilizing energy efficiency block grants.

According to Marlow, the water master plan will help with development fees which must be updated in January 2014.

During public comment, Price said Carefree residents are concerned about water fees going back into the water company and that the money they pay for their water is going back to pay for repair and maintenance of the water company and there was concern it wasn't a separate entity from the town.

Council voted unanimously to approve having the water advisory committee work with the interim town manager to select a firm to update the town's water master plan with an amendment presented by Councilman Thomas McGuire to add "and public review" to the end of the motion.

Marilyn Mays, CPA and partner in the government services division, and Brian Hemmerle, CPA and CFE (Certified Fraud Examiner) from Henry & Horne, LLP, the town's auditing firm, made a presentation to explain the auditing process to council.

Council was asked to decide if it wanted to execute the extension of its agreement with Henry & Horne or have staff prepare an RFP for auditing services and schedule the item for a future meeting.

Town Finance Director Robert Weddigen explained it was late in the process for putting out an RFP for auditing services and said the town had done that previously and Henry & Horne came in with very competitive fees.

Because it was getting late and the agenda item was only number six of 11, Francia asked Mays on two occasions if they could move their presentation along to simply explain the process to council.

Glassman pointed out a financial audit doesn't look at the quality of the numbers or decisions made, only if the numbers in the town's financial statements are reflected accurately.

When asked about whether Henry & Horne could also perform a management audit, Hemmerle said they could as consultants but could not be the town's independent auditor and consultant at the same time.

He said the town would have to have another firm perform in that capacity.

Francia explained there were three different types of audits but all start with this one.

He said if the numbers look amiss, they would then go to a forensic audit, with the third type being a management audit.

However, he said they all begin with a financial audit.

Council voted 6-1 with Councilman Reg Monachino dissenting to extend its agreement with Henry & Horne for auditing services with an amendment suggested by Councilman Charles Spitzer that the audit be presented to council and the public rather than just provided to the town as a document.

Council then voted 4-3, with Spritzer, McGuire and Monachino dissenting, to approve two exception requests by Lou Spelts for his Continental Mountain Estates subdivision.

The first exception will deed the road dedication back to Spelts to make the road inside the subdivision private, while the second exception will allow access to the subdivision from a private road.

Spelts said, "All I'm trying to do is protect my property," which has been subjected to vandalism and graffiti.

Spitzer said it sounded like a law enforcement problem.

Councilman Ernie Bunch said he didn't believe the town should be maintaining roads inside communities.

Monachino said he didn't like setting a precedent on gated communities and stated it was a law enforcement issue.

McGuire said he feared the unintended consequences.

Trenk said he doesn't like gated communities but supports private property rights.

Francia said he had concerns but stated when a previous council got rid of PADs and PUDs, it left developers with no other options than to lobby the town for exceptions.

Town Marshal Adam Stein said the property is off the beaten path and while they do patrol, they can't do it seven days a week.

Council voted unanimously to approve the first reading of an ordinance to repeal commercial condition number one of a 1991 ordinance for the "Gateway Project," now known as Stagecoach Village, which only allowed for single story buildings.

The repeal would not change the exterior of the buildings but would allow for second stories to be added inside existing buildings.

During public comment, realtor Mike Noonan said the declarant, who couldn't be present, has requested that council take no action until November and stated there were some legal issues.

Mike Farrar, also a realtor, said his client, who also owns property in the shopping center, believed council should move forward on the repeal.

Town Attorney Marlene Pontrelli said the first reading doesn't change anything, it only allows council to move the ordinance forward. She said the second reading could be continued if necessary.

Council voted unanimously in favor of the first reading.

Trenk presented a resolution on behalf of the town to the Arizona Corporation Commission (ACC) to oppose APS' application to impose monthly fees on solar customers.

Trenk called APS a monopoly and its proposal nothing more than state-sanctioned corporate welfare.

A solar contractor spoke during public comment in opposition to the proposed rate increase for solar customers.

A representative from APS, who is also a Cave Creek resident, also spoke.

He said it wasn't a revenue issue but a fairness issue because currently non-solar customers are subsidizing the grid that solar customers still use but don't pay for.

The resolution requests that the ACC maintain the current net metering policy and to continue to promote customer choice and provide retail rate credit for excess energy generated on site.

Net metering makes sure that the utility credits customers for energy at the same rate that the customer is required to purchase energy from the utility.

During public comment, Everett Bell urged council to pass the resolution, which passed unanimously.

Council then voted unanimously to extend the current magistrate's contract from 18 months to two years, as required by statute, and accept her resignation, effective Aug. 1.

According to Pontrelli, the current magistrate has accepted a job in the private sector.

Council then voted unanimously to have Judge Pro Tem Lawrence Scaringelli serve out the balance of her term.

The weary council finally adjourned around 11 p.m.