My View
BY DON SORCHYCH | JULY 17, 2013
Local views
I received this statement from a reader who said it came from a confidential source:

"Related to Usama, I am utterly dismayed at what happened. I have made a few visits to CC Town Hall, and the staff looks scared, frantic and as if walking on eggshells. While no one will go on record, it appears Glassman is in over his head, overly sensitive, barking instructions and in a panic mode. One staff member who will remain unnamed said it is "beyond chaotic."

This is consistent from what we have heard but avoids naming names because we know the majority faction on council and what they are capable of doing. The staff, led by Usama Abujbarah, has done a splendid job and they are virtually irreplaceable. I hope they hold their tempers until they are rescued by the planned recall.
Then I received this letter to the editor:

Don,
We have enjoyed your newspaper very much since building our home and moving to Cave Creek. We have been in agreement with you on almost every issue however; we are becoming very dismayed that you continue to praise the former Town Manager. His efforts to try to sneak a Resort Development into a prime area that is zoned Desert Rural without notifying the residents was abhorrent and unprofessional. The citizens of this community realized this and voted out of office his supporters on the council. His supporters on the council were also the ones that voted to keep the property tax after Spur Cross was paid. Both issues were recognized by the residents of this community and did the appropriate thing ... voted them out of office.

We suggest you get over it and support the new council and stop bad mouthing (Slate) them in your paper. We suggest you get your paper back to the conservative ideals that made your paper great in the past.

Thanks

Name withheld, but I will print his name if he chooses. He is a retired army officer and certainly should be heard.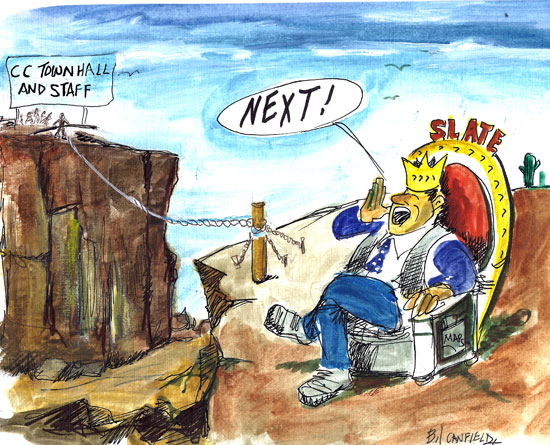 The gentleman asked two questions. The first is about the Enchanted Canyon Resort. The town followed long established policies and practices and it was not sneaked in "without notifying the residents" as claimed, but was an assertion made by the slate to be elected. The facts are that Abujbarah told the developer when he applied, it was doubtful it would be approved as offered. Secondly, as a property owner he had every right to apply. He followed the rules but correctly read the temperature of residents and withdrew before it was heard by the planning commission.

The complaint ignores that it was the foot in the door by non-voter Pennsylvanian Mike Chutz who raised $40,000 to defeat the development that led to a planned take over by the slate.
How can I get off the slate's back in any good conscience when they lied, lied and lied some more to be elected? If you really read Sonoran News all this has been covered in excruciating detail.

The matter of the public vote against a property tax for fire protection has also been covered in detail and we were always against it. The councilmen who voted for the public vote for the property tax were not voted out, they resigned. Based on Councilman Thomas McGuire's second place finish in the general election, it is clear that if Shelley Anderson, Jim Bruce and Dick Esser had not resigned they would be sitting on council now, not the slate. Yes, this 4-3 vote to ask voters whether they wanted a property tax is but one vote of hundreds of correct ones. As one writer editorialized he was hoodwinked by the slate.

Slates are bad by definition and ours is as bad or worse than most. How can one approve of a majority voting in lockstep rather than voting their conscience, their knowledge of right and wrong?

The first test case was Mike Durkin's vote against the immediate hiring of Rodney Glassman. It appeared the slate had at least one member who was mindful of public complaints about what they were doing. Those thoughts were quashed when Durkin voted later to seat Adam Trenk's unqualified choice for town manager even when a number of highly qualified town manager applicants applied to be considered.

Cave Creek has been a town which generally trusted their council and so, except for occasional hot topics, the citizens let council do their duty. A fair number of people spoke respectfully, but firmly, about their anger with the way they dumped the town manager. I think their voices caused Durkin to temporarily forget his focus as a slate member long enough to reconsider their planned actions to get Usama out and Glassman in. I suspect he was taken behind the wood shed by the other three slate members and maybe even Sewickley Mike Chutz.

Today the old guard is represented by only a few while the slate has their cheerleaders, about a dozen, who clap loudly for their side. You might think you had entered the wrong council meeting when you see Scott Dahne setting up his video camera, a copy of what a Carefree planning activist does in every council meeting.

Is that action an attempt to intimidate citizens? It happened during the short reign of Bernard Buffenstein before he suffered the indignity of recall.

The four who plan to run in the recall need to be at every council meeting, along with their supporters. The new council challengers must have the background that the slate doesn't have, and there are only five more months before stuff hits the fan.