BY MARIELLE D. MARNE | JULY 17, 2013
Authentic Italian food at Cibo e Vino made by authentic Italian Chef Collura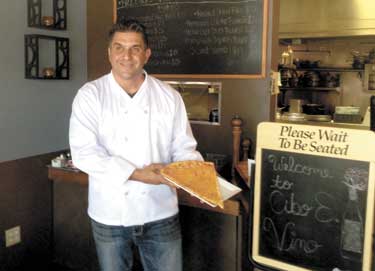 SCOTTSDALE – Summer means lighter fare and a plethora of seasonal fruits and veggies incorporated into the entrees at Cibo e Vino. Since peaches are at their peak, Chef John Collura said, "We have a really nice brown sugar glazed peach salad right now." Other current favorites are Pasta Arrabbiata (lots of juicy tomatoes and healthy Olive oil in this dish), Triple Berry Salad and Pasta Primavera. Every order is made-to-order, so Collura is happy to modify his recipe should diners have special requests.

While temps sizzle outside, get hot prices inside during Cibo e Vino's Early Bird Specials (3-5 p.m. daily). For $16.95 enjoy a Bruschetta appetizer, choice of Caesar or house salad, glass of house wine, entree (Chicken or Eggplant Parmigiana, Pasta Marinara, Chicken Picatta or lasagna), a mini cannoli and coffee! "These are regular sized portions," Collura added. The portions are generous, and most diners find themselves taking home the leftovers!

If you've tried Cibo e Vino's pizza slice lunch special, then you know generous portions. If not, for $5.50 (add toppings for 50 cents/each) you get a 12 inch pizza slice that barely fits on the plate, a bread stick and drink. Even those with hearty appetites find it challenging to eat two pieces!

Join the fun at Cibo e Vino's happy hour (M-F 2-6 p.m./Sat & Sun 10 a.m.-5 p.m.) and partake of $3.50 draft beers, $4 house wine, $5 Margaritas along with $5 chicken wings, $6 Pepperoni rolls, $7 steamed clams and many other tasty morsels and libations. So come in and cool off, even the outdoor patio is a comfortable 78 degrees!

Cibo e Vino is located at 34522 N. Scottsdale Rd. Visit their website at www.ciboevinoaz.com or phone 480-595-6600 for directions.