BY MARIELLE D. MARNE | JULY 3, 2013
Summer specials and a sincere thanks from L Skincare's Lindsay Jackson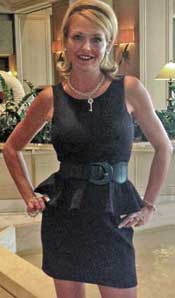 CAVE CREEK – For Lindsay Jackson of L Skincare, 2013 has been a banner year. Her business has tripled since her return to Arizona over two years ago. "Everyone has been so supportive, and all my clients have stuck with me." For that, Jackson would like to say thank you to the community.

Additionally, 'til the end of summer, L Skincare is offering a one time only 30 minute rejuvenation facial - brow wax and color and hand and foot massage included! Clients (current and new) can take advantage of this one time offer for $35. "It's a nice intro to (or reminder of) my services," Jackson explained. If necessary, it will even include a one-time pass of microdermabrasion.

For those who faithfully indulge in mani/pedis, Jackson would like to remind both women and men that the face is the first thing others look at, not the hands and feet! As such, she now has a new oxygen facial by Image. It's a masque that exfoliates, illuminates, oxygenates, making you look younger, more vibrant. Jackson strives to make her prices affordable, even offering deeper discounts with series programs. With Arizona's searing sun and dry climate, who can't use some defense against premature aging?

Do note, the Image skincare line, associated with the aforementioned oxygenating facial, is the very same used by the Miss America and Miss Universe pageants. If it's coveted by those beauties, it has to be effective! Ask Lindsay about it during your next treatment.

Before the harshness of summer zaps the moisture right out of your skin, call L Skincare for an appointment at 480-427-8559. Jackson is located in Stagecoach Village (in Sherrie's Salon), 7100 E. Cave Creek Rd., Ste. 141. See also l-skincare.com.