BY MARIELLE D. MARNE | JULY 3, 2013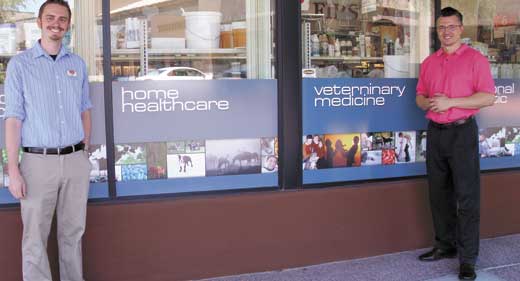 Pharmacist and new owner of Infinite Care Pharmacy, Guy Baker (r), and technician Ken Myers, a familiar face from Tatum Drugs, are available six days a week to assist with healthcare needs. Photo by Marielle Marne


CAVE CREEK – At Infinite Care Pharmacy, it's all about getting to know the patient. As pharmacist/owner Guy Baker explained, "People walk in a customer, but they walk out a patient." However, that's what you can expect from a small, full service pharmacy: personalized attention from people who are not only compassionate but sympathetic when one of their neighbors isn't feeling well.

Wondering where this new, outstanding pharmacy is? It's the former Tatum Drugs (28248 N. Tatum Blvd., Ste. B4). As of Feb. 2013, it has a new name and owner, and Baker assured he and his staff will do everything they can to meet the high standards and expectations previously established by Tatum Drugs.

Infinite Care Pharmacy will be growing and evolving, so input from the community is encouraged. One obvious change is no more greeting cards. A few other knickknacks that will no longer be stocked are deeply discounted so room can be made for more niche pharmaceuticals. Check them out before they sell out!

In addition to OTC and prescription meds (insurance accepted), find supplements, assisted living items (walkers, bed liners, wheelchair cushions, shower chairs, rental of mobility aids), heating pads, nebulizers (and accessories), prenatal support, unique brands (Liquid Health), even veterinary care. Equine people take note, not only are countless products stocked, Baker has an enviable working knowledge from when his family owned horses.

If you need something not on the shelf, items can be special ordered, often arriving next day! (Highly specialized requests may take up to five.) Baker will do whatever he can to assure his patients are well taken care of.

Explore the website –infinitecarerx.com– then stop in and say hello to Baker and his staff. "I want to welcome everyone back to Infinite Care Pharmacy. We're open, we're not a big box store, and we're here to listen and help," he concluded. Call 480-656-3349 for hours.