JUNE 26, 2013
OBITUARY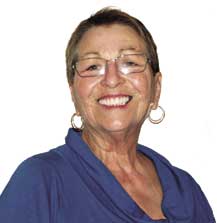 Connie Rose Henderson

Consuelo Rose Moreno Henderson, 71, was born in Los Angeles, California and passed away June 15, 2013 in Phoenix, Arizona. She moved from California to Arizona in 1958, and graduated from Tempe High School.

While cruising with her girlfriends on Central Avenue in Phoenix, February 1960, she met the love of her life, Paul Henderson. The first night she met Paul, she told her friends she would marry him; they wed in October 1961.

Connie and Paul built their home and moved the family from Phoenix to Cave Creek where they lived for 25 years. Actively involved as a volunteer with her children's 4-H Club, school, sports and other activities, she met many wonderful friends. Countless summer weekends were spent camping, fishing and water skiing with family and friends at Bartlett Lake.

The family regularly attended mass at the Carefree Inn and then Rancho Mañana before Our Lady of Joy parish was built in Carefree in 1974.

During the time she lived in Cave Creek, Connie met and worked for Dude and Barbara Noble of Carefree. Later they became business partners and remained lifelong friends.

Founder, President and CFO of Henderson Utility Company for 27 years, Connie treated her employees like family, insisting that everyone had health insurance coverage. The family business was established in January 1986, and continues operation today using her valuable ideas and administrative plans.

She was preceded in death five years ago by her only son, Michael Albert Henderson. They are now in Heaven together celebrating eternal life and happiness.

Connie was an amazingly talented, creative and ingenious artist, dabbling in nearly every art form: paints, mosaic tile, sculpture, crafts, beadwork and much more.

She was a supportive wife and the biggest cheerleader to Paul's hobby building a cackle car K88 dragster and restoring their 1958 GMC Carry All over the last 8 years. Participation with both vehicles in several local car shows was a recent and exciting pastime for both.

She was preceded in death by parents, Oscar and Nettie Moreno, three brothers and one sister in addition to her son Michael. Surviving family includes her loving husband, Paul, daughters Susan (Marty) Goggins, Patricia Henderson, grandchildren Joshua (Mandy) Henderson, Jacob (fiancé Xio Gonzales) Henderson, Raquel Gengler, Marie Goggins & Julie Goggins, great-grandson Jayden Gengler, brothers Gilbert (Veneta) Moreno and Phillip (Anna) Moreno, and many loving aunts, uncles, cousins, nieces, nephews and friends.

Memorial mass will be held on her birthday, Saturday, June 29 at 10:30 a.m. at St. Gregory's Catholic Church, 3424 N. 18th Avenue, Phoenix, AZ 85015. A reception celebration immediately following the service will take place in Gordon Hall at the church.