JUNE 26, 2013
Major state tax reform bill signed into law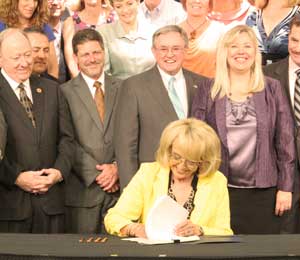 STATE CAPITOL, PHOENIX – Tuesday morning, Governor Jan Brewer signed HB 2111 (transaction privilege tax changes) into law. The bill, sponsored by State Representative Debbie Lesko (R-Dist. 21, pictured below), received almost unanimous bipartisan support in both chambers of the Arizona Legislature.

Under current law, businesses operating in multiple Arizona cities must remit multiple tax forms and checks to the state as well as each city they operate in. Businesses are also subjected to multiple audits by state and municipal tax authorities.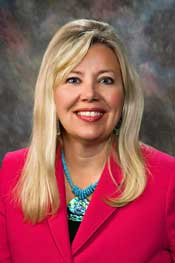 Under the new legislation, businesses will only be subjected to one single audit and will remit their sales taxes to only one location either online or via one single form to the Arizona Department of Revenue.

Pleased with the strong support her legislation received, Representative Lesko stated, "As Arizona has the most complicated sales tax system in the nation, the success of this reform was a big win for Arizona taxpayers and businesses alike. It has been tried multiple times before with no success but this time, we got it done. I'm honored to be part of this historic tax reform legislation that will bring Arizona one step closer to realizing its full potential as the nation's best place to live and do business."

Business to Business
Cibo e Vino offers authentic entrees, outstanding value and friendly service. Amazing appetizers, salads, entrees, sandwiches, pastas, pizzas (slices served daily). Terravita Center - 34522 N. Scottsdale Rd., Ste. D1. 480-595-6600 or ciboevinoaz.com.
Single and looking for that special someone? You could be a perfect match for one of Barbie & Ken Introductions' exclusive clients. Free evaluation and consultation. Call 480-268-9737 or visit barbieandkenintroductions.com.
Infinite Care Pharmacy: standard commercial and compounded prescriptions, over-the-counter medications, supplements, homeopathic remedies, medical equipment, veterinary medications. 28248 N. Tatum Blvd, Suite B4. 480-656-3389.
Lowest price guarantee at Outwest Interiors Quality Furnishings Boutique; Designs by Beverly Sexton. Free Interior Design Consultation. Satisfaction Guaranteed. Visit at 38252 W. Jacqueline Dr., Suite D, Cave Creek. Call 480-575-8000.
Hot. Cool fashion. A touch of bling in all the right places. Catering to all ages. That's what you'll find at the tastefully edgy boutique Pink Cadillac. 6220 E Cave Creek Rd., Cave Creek. Call 480-575-1060 or visit their website at pinkcadillacboutique.com.
Specializing in Fine Hair, Just Janet's Salon also offers custom color and cutting. Located at 7171 E. Cave Creek Rd., in Carefree. Call for an appointment: 623-582-2242 or 602-471-1022.