BY LINDA BENTLEY | JUNE 12, 2013
PI continues to bombard town hall with records requests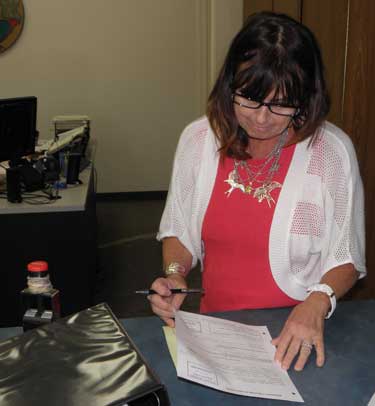 Assistant Planner Marie Carsia is pictured processing commercial records requests that now appear to be arriving daily from William Loughrige, a private investigator from Tempe.
Photo by Linda Bentley



CAVE CREEK – No sooner did town hall fulfill a batch of commercial records requests by William Loughrige, a private investigator from Tempe, Loughrige submitted a new batch of requests on June 5 and June 6.

The cost for the first go 'round came to just over $149.

On June 5, Loughrige asked for all correspondence and an explanation as to how his public records request became known outside the town of Cave Creek offices as having been made by a private investigator.

It doesn't take a PI to "Google" Loughrige's name, find his website and learn he is a registered process server and the owner WJL Investigations, Inc. and Copperstate Legal Services.

Amongst his June 6 requests was an inquiry about the town policy for releasing public information for commercial purposes, policy for releasing information to periodicals or news organizations and whether or not they are considered commercial purpose clients. If not, he asked, "Why not?"

So, someone has hired a PI, who appears to be completely unfamiliar with Arizona statutes pertaining to public records, to make requests for public records.

The Arizona Ombudsman – Citizens' Aide compiled a 35-page booklet in May 2008 titled "Arizona Public Record Laws," that will answer Loughrige's questions.

It also includes case law where applicable.

On page 20 (page 25 of the pdf) it states, "Gathering newsworthy facts from public records to include in a newspaper or other publication is not a commercial purpose." It cites: Parks, 178 Ariz. at 605, 875 P.2d at 838.

Further, A.R.S. § 39-121.03(A) states persons requesting records for commercial use "must provide a statement setting forth the commercial purpose for which the records are requested."

So far, Loughrige has not provided any such statements with his requests, as required by law, although claiming they are for a commercial purpose.

Loughrige requested fax logs from all town fax machines for May 23 and 24.

He also asked for a copy of the building permit for electrical work issued to Don Sorchych, all inspection reports for May 21 and 22 and all logs and notes made during the inspection.

Another request was made for copies of building permits and special use permits issued to the Buffalo Chip.

On Monday, June 10, Loughrige was at town hall making a couple more requests for public records.

This time, what appears to be a fishing expedition is focused on the town manager's and town marshal's credit card expenditures for the years 2011 through 2013.