My View
BY DON SORCHYCH | JUNE 5, 2013
Keep the town administration as it is
Your community newspaper has kept you informed about the insurgence of the dark side of local politics. Interesting enough, the effort has been driven by out of town people and out of town money.

The most infamous are Mike Chutz of Sewickley, Pennsylvania, his protégé Anna Marsolo of Maricopa County and Jim Peirce of Carefree.

Peirce and his pal, former Councilwoman Grace Meeth, have tried to snooker the public twice and they lost both times. The public, with an almost two to one majority upheld the rezoning on Carefree Highway next to two Carefree stores, which resulted from Carefree's rezoning.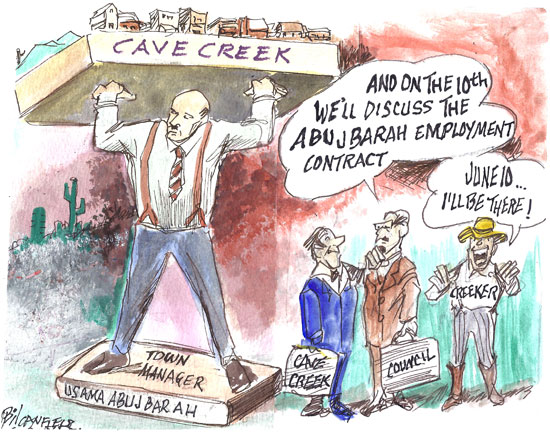 So when the slate of four says the public demanded a change, how about Prop. 459 where they lost big time? And how about Councilman Thomas McGuire's placement as second barely behind Mike Durkin? It is clear if council members Shelley Anderson, Jim Bruce, and Dick Esser would have stayed in the race they would have defeated the slate. Undervotes of 2,000 are more proof voters had figured out by that time they were seating rookies with an agenda.

What is the agenda? First to get rid of the best town manager the town is lucky enough to have. Second, king-want-to-be Chutz was overheard instructing his subjects that the town needs to privatize all town functions. I could write a book about how that would be town suicide. Just for starters, you can't vote private firms out; you have to sue them if you want change. Also it opens the door to corruption by sales to friends and possible kick backs.

Out of town money? Adam Trenk, as he did in the last election, got over 90 percent of the $20,000 he spent from out of state relatives. Trenk's grandfather Alvin Trenk spent $5,000 to fund Bob Moore's editorials and ads targeting Sonoran News. Moore is the prevaricator who was kicked off the planning commission by council.

The slate, like Obama, has enlisted the media to attack Sonoran News. Recently, Arizona Republic reporter Philip Haldiman accused Sonoran News and cartoonist Bil Canfield of racism. I fully answered that charge in the May 29 My View online, which is printed in this issue. Next Haldiman said, "Challengers say the paper (Sonoran News) shut them out of the letters to the editor and guest editorial pieces, forcing them to spend more money on advertisements and campaign promotion."

Then the slate-friendly Haldiman repeated the same charge, which he attributed to the money they had to spend to counter Sonoran News. So Haldiman editorially condemned Sonoran News without ever asking us. Furthermore, why didn't his newspaper contribute more space to the "challengers?" And add to that Haldiman lied as did the "challengers." We received no printable letters supporting the slate. The slate hates this newspaper and has targeted it as they have the town manager.

Another proof of Haldiman's adoption of the slate is the headline in Scottsdale Republic, "Cave Creek town manager could lose job."

I won't go there yet, but two slate candidates assured, when asked, that they had no plan to oust Usama. However, they confirmed they do at the last council meeting and before they were seated. The June 10 meeting is an important one because Trenk has insisted on an early discussion of Usama, although it was originally scheduled for June 25.

Abujbarah's contract with Cave Creek extends to August, 2014. It is sad that world class performance results in all sorts of lies and innuendos by town Usama haters. But that is the nature of politics and especially since we are seeing the playbook from Pennsylvania and New Jersey, Chutz and Trenk, respectfully. The others are mere chess pieces on the council.

I have no interest in doing more than assuring the new council follows the law, the general plan and the town code. They are rookies but will find lots of teeth in the town ordinances. For instance, the stupid idea of having a CFO report to council requires a change of the town code. Many changes to the town code are referable and this one would be referred for sure, if it is referable. Many other possible changes require voter approval.

But built in voter protection is recall. We are probably the only municipality in Arizona which has recalled the mayor. That was Bernard Buffenstein who mirrors some of those in the current cast of characters. The slate likes to say they have a three-and-one-half-year term. No, they have six months and then they are subject to recall and contenders for their seats are waiting.

Another almost fascist factor is the employment of a private eye by unknown but certainly slate related agents. Linda Bentley has a news story in this issue which details the demands made by PI. In the case of Sonoran News he has asked for our tax records and the amount paid to us by the town. He should know he has no right at all to receive copies of our tax records. What else he asked is proof of slate members shadowing the town. Heil slate!

But the most important issue facing the town is to retain Abujbarah as town manager. So it is important that if you accept my premise you show up at town hall at 7 p.m. on June 10 and speak your mind. Business owners, home owners, voters and citizens of all kinds need to flex the muscles of the majority of citizens. You proved you are out there when you voted two to one to support the council rezoning on Carefree Highway. It is no surprise that the slate is not for crucial planning, which is what that was. Mike Durkin who already has said in our forum he was against Prop. 459 is now a loud and arrogant voice among the slate. Voter participation suppresses council arrogance and wrong thinking. We are still a Republic and the council is not royalty.

See you there on the 10th!