BY MARIELLE D. MARNE | JUNE 5, 2013
When it comes to windows, PSI Window Coverings bedecks and dazzles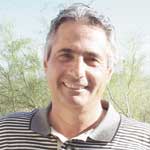 SCOTTSDALE – Want window dressings so stunning and innovative that Mother Nature's splendor, separated by a mere glass pane, pales in comparison? It's possible if you visit PSI Window Coverings. If you're not sure what's in, what's trending, what will look good, owner Phil Igneri (r) explained that every one of his team has extensive experience and they know what will work and what won't. Come in and ask! PSI is the largest Hunter Douglas showroom in Arizona, and if you think you've seen it all when it comes to blinds, Hunter Douglas is always recreating itself.

New this year? In-home automation; that is, window coverings that can be operated from your smartphone or iPad. (By wall switch as well if you don't have the latest in high-tech.) The best news, too, is cost has decreased since automation is becoming more mainstream.

Hunter Douglas has always striven to be enviro-friendly and several products employ recycled goods. Igneri said well-known shades (Duettes, Pirouettes, shutters) are crafted of recycled products – water bottles and t-shirts, for instance. So at PSI, they can help you be "green" in more ways than simply lowering your energy bills.

And if you think vertical blinds are the only options for sliding glass doors, PSI has on display several alternatives. See, feel and try them all in their showroom.

Federal energy rebates are available 'til year's end. Hunter Douglas updates its discounts quarterly (see psiwindowcoverings.com), and currently, Igneri is matching manufacturer rebates. That means if Hunter Douglas has a $100 rebate, then through PSI, customers save $200. Hurry in for this limited time savings! There's never a better time to update your home's interior easily with new window coverings.

PSI Window Coverings is open Mon-Sat, with increased hours coming soon. Turnaround time averages two weeks and blind repair (on Hunter Douglas products) is available. Sharing the office space with PSI Window Coverings at 7255 E. Adobe Dr., Ste. 115 is Desert Valley Audio Video, so visit them for home theater design. Call 480-443-0203 for details.