BY LINDA BENTLEY | MAY 8, 2013
Lopez said the town's credibility would be at risk after 'assuring' Ellison the funds for this project would be available to him
CAVE CREEK – Bob Moore (r) cannot seem to get enough Sonoran News bashing in and now uses Call to the Public of council meetings for his audience.
BY LINDA BENTLEY | MAY 15, 2013
Unlike federal lands that are managed for the benefit and use of the public, Arizona State Trust lands are not public lands
DESERT HILLS – Jackie Dean, a Desert Hills resident, recently contacted the Arizona State Land Department (ASLD) upon learning that it had closed Section 32, a 644-acre parcel between Seventh Street and Seventh Avenue, bounded by Cloud Road to the south and Joy Ranch Road to the north, even to those who had obtained recreational permits.
BY LINDA BENTLEY | MAY 15, 2013
Old restaurant building to see new life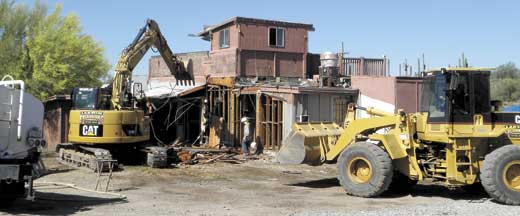 Larson Excavating was out bright and early Monday morning to perform a partial demolition to the building that once housed Uncle Luigi's and the Cracked Crab restaurants. According to Planning Director Ian Cordwell, the property, which has been sitting vacant for several years, was purchased about a year ago by Carefree resident Frank O'Neill, who plans to open a high-end antique store that will carry things from the "era of Columbus." Photo by Linda Bentley
BY LINDA BENTLEY | MAY 15, 2013
WASHINGTON – On May 14, 1988, Larry Wayne Mahoney, a drunk driver entered the wrong way on Kentucky I-71 with his Toyota pickup truck and slammed head on into a school bus, claiming the lives of 24 children, the bus driver and two adult chaperones, who were trapped inside and died in the fire.
MAY 15, 2013
Donate to Foothills Food Bank & Resource Center
Sonoran News readers have been busy helping our community by donating to the Foothills Food Bank & Resource Center. You've done an amazing job!!