MAY 15, 2013
Dreamchaser Horse Rescue awarded a top prize of $10,000 from Arizona Gives Day!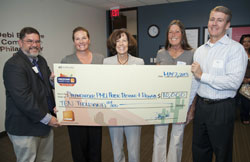 NEW RIVER – Thanks to the tremendous support of their donors, Susan Thompson and Cheryl Vosburgh of Dreamchaser Horse Rescue were pleased to accept the top award of $10,000 in the "Small Non-Profit, Most Donors" category on May 2.

Arizona Gives Day was a single day of online giving that was successful in raising $928,541 for non-profits statewide on March 20. Dreamchaser beat over 300 other participating non-profits to clinch the top spot in their category.

With an additional $8,245 in donations raised during the event, it was a hugely successful one day fundraiser for the 501(c)(3) horse rescue located in New River. Susan Thompson, who founded Dreamchaser in 2002, says the funds are greatly needed.

You can find out more about Dreamchaser at http://dreamchaserhorserescue.rescuegroups.org/ or find them on Facebook.

Pictured (l-r) Patrick McWhortor (Alliance of Arizona Nonprofits), Cheryl Vosburgh (Dreamchaser Volunteer), Marissa Theisen (Arizona Grantmakers Forum), Susan Thompson (Dreamchaser Founder/CEO), Bryce Floyd (First Bank).
Signature Event has a name!
Triple R Horse Rescue dinner and auction event on Saturday, Oct. 19 will be called "Hope for Horses Annual Gala"
They are looking for volunteers to help in various areas:
Marketing: Assist with "save the date" campaign, work on website content, assist with look and content of event brochure, design sponsorship packages/levers, generate flyers and multiple media to promote event. Work with Merchandising team to create pieces to synch with auction items.

Tech: Assist with website to host event information, ticket sales and auction items. It will also include research for possible auction software and any data entry.

Audio/Visual: This team will produce a video to air at the event. They will also ensure correct AV setup and work with event MC.

Decorating/Merchandising: This team will decorate facility before the event; make sure we have proper props for silent and live auction items. Additionally, will create a simple design scheme for event and help oversee installation/dismantle of auction items.

Procurement: This team will solicit event donations to include silent and live auction items as well as working to secure sponsorships. They will work with Marketing and Tech Teams to ensure donated gifts are entered into the system. Finally, they will generate thank you notes to donors after the event.

Dessert Dash & Wine Toss: This team will solicit wine and desserts for event. They will also coordinate logistics for both.

Miscellaneous: For anyone not sure where they would like to help but would love to be part of the team.

If you are interested in volunteering, please go to: www.signupgenius.com/go/8050D4CAFAF2EA13-hope.

Thank you. This is going to be a fun event to put together. Please contact Terilynn Meeker, Volunteer Coordinator at terilynn@triplerhorserescueaz.com if you have any questions.