BY MARIELLE D. MARNE | MAY 15, 2013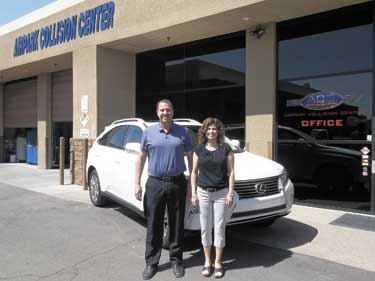 SCOTTSDALE – Read their customer reviews and you'll find Airpark Collision Center, which opened in 2006, has a lot of loyal customers. Gerald and Tina Small are the heart of this family-owned and operated auto body shop. One aspect you can be assured of is they care about their customers along with maintaining their stellar reputation for them.

"We are not a high volume shop. We take pride in our work and restore vehicles back to factory specifications. Not only for aesthetic reasons, but to ensure passenger safety," the Smalls explained.

After all, they've lived in Cave Creek/North Scottsdale for the last 15 years, so they know their neighbors and they know quality matters to them. Of their 15 employees, many have been with ACC since opening, so you, too, can count on consistency.

At ACC, anything from scratches to collision repairs can be fixed, and Airpark Collision Center staff is savvy and works with all insurance companies, but they are foremost advocates for their customers. Given its reputation, ACC is often recommended as the go-to repair facility, but if your company suggests another body shop, keep in mind, the ultimate decision of where to have your car repaired is yours. So choose ACC, a repair center that offers a lifetime guarantee on workmanship and stands behind its repairs as long as a customer owns the vehicle.

In addition to being outstanding in its industry, ACC is "green." They use a European water-based paint that's healthy for the environment and allows for the most accurate color matching. Two paint booths are available for a controlled environment in which dust is blown away from the vehicle so you have a perfect finish with no flaws. Whether you have a Porsche or a Pontiac, the work is pristine.

For a new paint job or repairing post-auto accident damage, call Airpark Collision Center at 480-922-3006, go to 7333 E. Butherus Dr., Ste. A-200 or visit them online at collisioncenternorthscottsdale.com.