BY MARIELLE D. MARNE | MAY 1, 2013
At Farm Bureau Insurance, protect what matters to you ... affordably
CAVE CREEK – When was the last time you had a comprehensive review of your insurance policies? Leslie Jensen of Farm Bureau Financial Services knows people's lives change as do their insurance needs, so she wants to assure they aren't paying for insurance they don't need or be lacking in areas they do. "When reviewing policies, we often discover people are not properly protected," Jensen explained.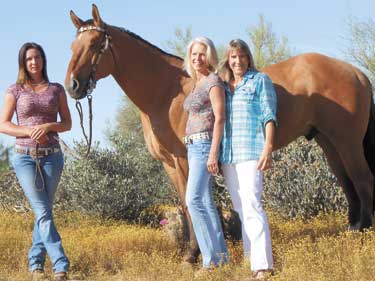 An insurance review is free, so what do you have to lose, other than higher premiums? Plus, Farm Bureau offers unique coverage in the event of ID theft or residential equipment breakdown for operating components of your home (think AC, water heater, electronics) and even insurance for horse owners. This includes equine liability, boarding coverage and "care, custody and control."

Have a small or home-based business? Jensen's team can cost effectively cover you. With the BusinessMax Advantage you can "help shelter your business against losses due to property damage or liability claims." If you're an Avon or Arbonne representative or caterer or upholsterer, Farm Bureau will help shield you and your livelihood from the unexpected. Know that you won't be getting a generic policy but one tailored to your needs to protect what's most important to you!

Don't forget about life and auto! By combining policies, you pay less. "We've saved clients $600, we've saved clients $1,800," Jensen offered. Until you speak with Jensen or one of her knowledgeable colleagues – Denise Good and Christine Powell – you won't know by how much you can reduce your insurance costs.

Call 480-575-0710 or stop by 6554 E. Cave Creek Rd. or visit online at agentlesliejensen.com to see how Leslie Jensen at Farm Bureau Financial Services can help you.