BY MARIELLE D. MARNE | APRIL 17, 2013
Bug off! That's what Beebe's Pest Control tells insistent insects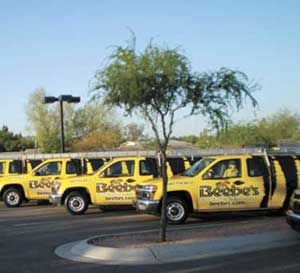 Nobody likes to be bugged! That's particularly true when the pests are of a multi-legged variety. If you're doing battle with scorpions, bed bugs, bees, mosquitoes or any other undesirables invading your home/yard, call Beebe's Pest Service. It's family-owned and has been serving the valley for 28 years.

Some homeowners remain leery of using pesticides around sensitive kin, pets and children, but today's solutions are not only more environmentally friendly, there's an option to go organic. Current chemicals dry quickly and are odor-free. They must be safe, as many of Beebe's clients are doctors' offices, medical facilities and even pet kennels.

Other plusses to using Beebe's include highly personalized service. "We accommodate whatever the customer wants" is their mindset. Free inspections are offered to determine the true problem. For instance, carpenter ants are often confused with termites. Once the blight is positively identified, Beebe's will treat effectively. Cost estimates are free, and they'll match competitor quotes less 10 percent. Though they discourage spot treatments for termites, because if you have them in one area, you're likely to get them in another, they do offer the option since they want to be the go-to pest service for any client needs.

For those who have reservations about killing pesty pigeons or cute little mice, Beebe's has live traps to relocate those types of critters. They even remove snakes. Typically same day service, too!

Check out their website at beebes.com for all services and plans (monthly – advised for spring/summer – bi-monthly, quarterly) designed for utmost convenience and affordability. See how well regarded they are by the BBB and Angie's List.

Call Beebe's Pest, Termite and Bee Service before you have issues at 602-978-4412.