BY MARIELLE D. MARNE | MARCH 20, 2013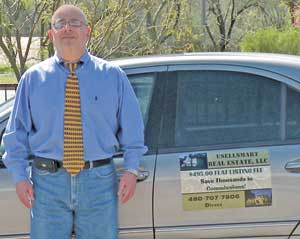 "You have choices," said Joe Montalto of USellSmart Real Estate LLC. Many traditional home sellers don't realize they need not list with the "big name" real estate companies that charge 6 percent commission. "You can save thousands, and there are no gimmicks, no hidden fees," Montalto assured.

How does it work? Option one is to sell through USellSmart for a flat fee of $495. Sellers receive a home market analysis, placement on MLS (and related sites: Realtor.com, Zillow.com, etc.), lockbox, signs, feature sheet. If Montalto or his associate shows your home, know buyers are pre-qualified.

The first 30 days are critical to selling real estate, so homeowners may lose valuable time and credibility going the FSBO - for sale by owner - route initially. So try it! With USellSmart you can cancel anytime, there's no penalty.

If you need more support, USellSmart has a full service option for $495 plus 1 percent at closing. (For buyers' agents, you still earn 3 percent, or as negotiated.) To sellers, that's a huge savings over the typical 6 percent commission, and you receive agency representation, contract prep and negotiation, coordination on showings, the whole nine yards!

USellSmart is relatively new to Arizona, but Montalto has over 25 years experience in real estate. How does he offer such affordable fees/commissions? "I have low overhead. I'm just like any agent, but I've been doing flat fees for 12 years."

Save money, get the same expert service, customized selling (Don't need a lockbox? No problem! Cost is deducted.), cancel anytime and still sell in roughly 35 to 60 days. (Short sales are ineligible for USellSmart.)

Find out more at usellsmart.com or call Joe Montalto at 480-707-7806.