BY LINDA BENTLEY | MARCH 27, 2013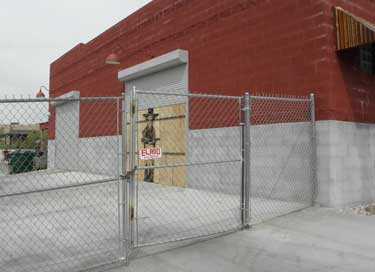 A would-be thief blew through the chain link fence at Wild West Pawn early Sunday morning in a stolen truck and then backed into the garage bay, damaging the garage door and a truck parked inside.

Photo by Linda Bentley



CAVE CREEK – It was barely daybreak on Sunday morning when a white male with long, dark, curly hair pulled into Petite Acres, the trailer park behind the Hideaway Grill, in a newer model, silver, four-door, Dodge Ram pickup truck with lime green flames on the front.

The man backed his truck up to a trailer and then got out and attempted to hitch it up to his truck.

When someone at the trailer park questioned what he was doing, the man jumped in his truck and left.

As Maricopa County Sheriff's Office deputies were at Petite Acres taking the report, an alarm went off at Wild West Pawn.

The same truck, which matched the description of truck reported stolen earlier in Phoenix, was caught on video outside the pawn shop with its tailgate down, presumably to hide the license plate.

The driver then plowed through the chain link fence on the west side of the building and then backed the truck up right through one of the garage bay doors on the side of the building, which set off the alarm.

The suspect hit a truck parked inside the garage bay and, in addition to the damage to the fence and garage door, did approximately $3,500 in damage to the truck inside the pawn shop and shoved the truck within an inch of a motorcycle parked in front of it.

The alarm most likely scared the driver off who fled the scene without ever getting out of the truck.