BY LINDA BENTLEY | MARCH 27, 2013
Cave Creek elections – Game on
CAVE CREEK – In the town dubbed "too tough to govern," this election could be the one that has it living up to its reputation with more twists and turns leading up to the May 21 election.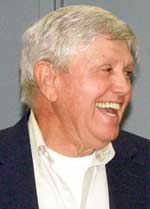 Just when people thought the elections in Cave Creek were pretty much over, Councilman Dick Esser (l), who previously withdrew his candidacy from the general election, had a change of heart and decided he wished to remain in the race.

Councilman-elect Adam Trenk referred to Esser's change of heart as "a most bizarre turn of events – apparently the Town Manager, Usama Abujbarah intervened and has convinced Dick Esser not to withdraw from the race after all."

Well, Trenk got that wrong. Abujbarah was not involved in Esser's change of heart.

Esser was having lunch with a friend who convinced him to remain in the race, so he contacted Town Clerk Carrie Dyrek from the restaurant to find out if he could rescind his withdrawal.

Dyrek, in turn, contacted Maricopa County Elections, who informed her it was up to the town manager.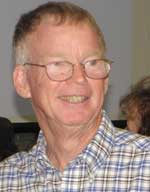 Abujbarah had no objections, so Esser is back on the ballot seeking reelection along with Councilman Thomas McGuire (l).

Meanwhile Mike Chutz, the Sewickley, Penn. resident who, for reasons still unknown, is backing the slate of challengers to replace town council, was sending E-mails to McGuire requesting he withdraw from the race for "the good of the town."

Chutz's E-mail to McGuire can be read in its entirety in Don Sorchych's "My View" column.

Then, in a most bizarre turn of events, a lawsuit was filed this morning by Gerald Freeman, who supports Chutz's slate of candidates, against Esser, Maricopa County, Dyrek and the Cave Creek Town Council in an effort to have Esser removed from the ballot.

That isn't the bizarre part though.

The bizarre part is Freeman, who has traditionally used Steven Mahaffy as his attorney for the past several years, has suddenly jumped ship to the Tiffany & Bosco P.A. law firm and, although William Fischbach is listed as his attorney, Attorney Tim La Sota, who represented Trenk in Rob Papineau's complaint challenging Trenk's residency requirements to appear on the ballot, appears to be involved in the lawsuit, as he is the attorney that has contacted the town and Esser.

And while Trenk previously called the council members who dropped out of the race "cowards," he appears to be behind trying to get Esser removed.

With incumbents Mayor Vincent Francia and Vice Mayor Ernie Bunch already reelected, the reelection of Esser and McGuire could give council a 4-3 majority over the slate of candidates, endorsed by out-of-towner Chutz, who seek to take over the town.

So, it's still game on in Cave Creek for the runoff election and the "fat lady" has yet to arrive.