BY MARIELLE D. MARNE | MARCH 20, 2013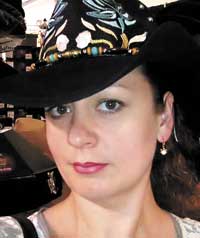 CAVE CREEK - At Red Velvet Tailoring and Alterations, Katerina Miroshnichenko earns the business of every new customer and appreciates each referral she receives. "The best way to get business is to remember it's important to keep up the quality of your work. You have to do things like you would do them for yourself. And, keep to your schedule. People don't want to come to your business when you're "open" and find the door locked, because you're running late," she said.

Her clients trust her, know her skills and keep coming back. If you've not used the sewing services of Red Velvet, you've been missing out. Because not only does Katerina raise hems and put in darts, she can completely repair loved and well-worn suede jackets or leather ones the new puppy chewed. Ask to see the photos! She can make clothes, comforters, pillows – whatever you need.

Katerina has also started a new service - professional shopper. Have a new job, a crucial interview, a class reunion and have to look your best? Set an appointment to meet with Katerina at the store(s) of your choice, and she'll help you shop. She explains that while salespeople can be beneficial, they typically work on commission and sometimes the sale is the extent of the transaction. Katerina will be honest and can suggest alterations for a different look. "I might advise we pull in a dress at the back," she explained. Voila, a whole new look! Having a professional shopper assures you buy the correct size, the optimal colors, the right styles for you!

For details, call Katerina at 480-208-8699. Red Velvet Tailoring is located at 6554 E. Cave Creek Rd, Ste. 6.